Please see the Reports & publications page for links to other publications.
---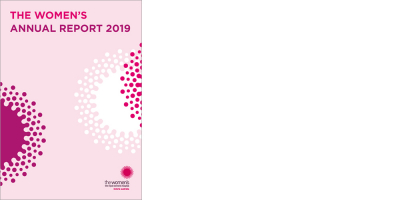 The Women's Annual Report 2019 is a report of our operations, and key financial and service performance for the 2018-2019 financial year.
Consultancies
Details of consultancies (valued at $10,000 or greater)
In 2017/18, there were four consultancies where the total fees payable to the consultants were $10,000 or greater. The total expenditure incurred during 2017/18 in relation to these consultancies was $295,226 (ex GST).
Consultant

Purpose of consultancy

Start date

End date

Total approved project fee
(ex GST)
Expenditure 2016-17
(ex GST)
Future expenditure
(ex GST)

Biruu Pty Ltd

Frances Perry House tender engagement

Reproductive Services review

1/7/2017

6/11/2017

30/9/2017

22/2/2018

37,854

24,975

37,854

24,975

-

45,000

Domani Consulting

Operating model review

25/2/2018

18/3/2018

14,000

14,000

-
Communicorp Group Pty Ltd

Workplace strategic review

28/5/2018

30/6/2018

26,900

26,900

-
Ernst and Young

Operational improvement review

30/8/2017

31/10/2017

191,497

191,497

295,226

295,226

45,000
Downloads and Related Topics
---