Maternity and Newborn Emergencies (MANE) program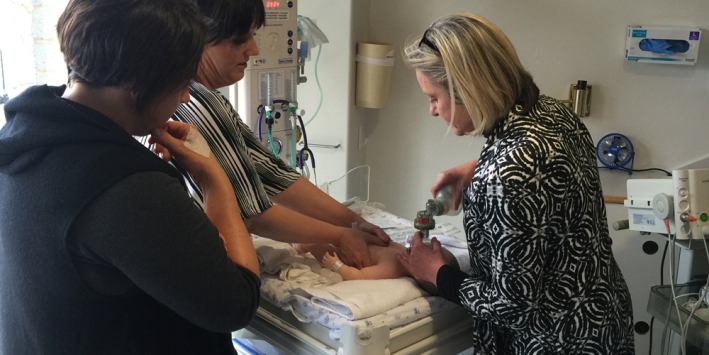 Education for rural clinicians
The Maternity and Newborn Emergencies (MANE) Program draws together the clinical expertise of facilitators from:
Maternity Services Education Program (MSEP), The Royal Women's Hospital
Paediatric Infant Perinatal Emergency Retrieval (PIPER) Service, The Royal Children's Hospital
The program delivers specialised and tailored education to maternity and newborn care clinicians in level 2-4 Maternity Services throughout Victoria.
This multidisciplinary clinical education session is facilitated on-site within the hospital's birth suite and clinical education area.
The purpose of the program is to build upon the existing internal clinical education and professional development in-situ at level 2-4 maternity services including Practical Obstetric Multi-Professional Training (PROMPT), through having 'access to independent clinical expertise to help identify deficiencies in care and focus attention on opportunities for improvement' – Targeting Zero (2016), recommendation 5.
Registration is open to doctors, midwives, nurses, paramedics and students.
CPD Points and Procedural Grants are available for attending this program. Download the 2020 MANE CPD Allocations document below.
Features of the MANE Program
Simulated perinatal emergencies
Provide external expertise to support internal PROMPT activities
Practical workstations (Clinician Specific)
Principles of teamwork resource management
Site specific initiatives to improve clinical care and outcomes
Clinical Governance Education and feedback to service
Elective module selection to tailor the program to the learning needs of your organisation
2020 MANE Programs
As a result of the current COVID-19 outbreak, the 2020 MANE programs in their current face to face format have been temporarily suspended. In lieu, we have developed an MSEP Online program for rural maternity services. Please contact us to discuss an online education package that can address the needs of your organisation
Select the following link to participant feedback and photo gallery
---
---