Emergency Birthing for non-birthing and Level 1 Services Program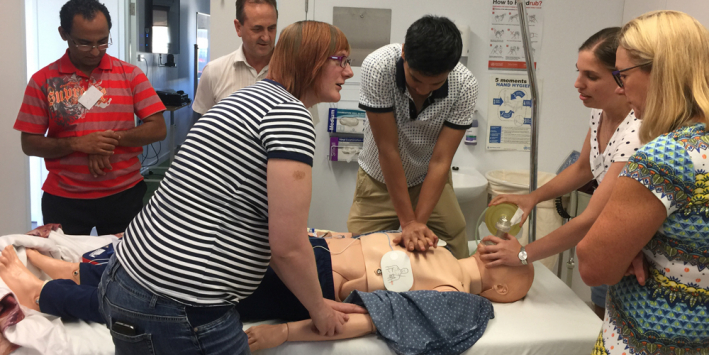 The Emergency Birthing for non-birthing and Level 1 Services Program is a one-day program based on-site within non-birthing services' Emergency Department.
The program has a strong focus on the management of unexpected labour and birth for clinicians who are non-practising midwives or non-midwifery trained. Content includes teamwork resource management and clinical risk management from a maternity and newborn emergency context using simulation, practical workstations and didactic presentations.
Examples of topics to be covered include:
Normal Vaginal Birth (including third stage management)
Shoulder Dystocia
Breech
Newborn Resuscitation and Stabilisation
Postpartum Haemorrhage
Participants attending the program are encouraged to represent the multi-disciplinary team. Suggested participants include: midwives, registered/enrolled nurses, general practitioners (GPs), medical and midwifery students, paramedics and other clinicians as appropriate at your hospital.
CPD Points and Procedural Grants are available for attending this program. Download the 2020 CPD Allocations document below.
Aims of the Emergency Birthing Program
The aim of the program is to provide clinical skills and knowledge to:
Manage unplanned labour, birth and care of the newborn

Identify women that may need referral for antenatal assessment or transfer of care to a higher level service.
2020 Emergency Birthing Programs
As a result of the current COVID-19 outbreak the 2020 Emergency, Birthing programs in their current face to face format have been temporarily suspended. Please contact us to discuss an online education package that can address the needs of your organisation.
If you would like to schedule an Emergency Birthing program for your health service in 2021, please contact the MSEP team for more information.
---