A hairy Father's Day fundraiser for the Women's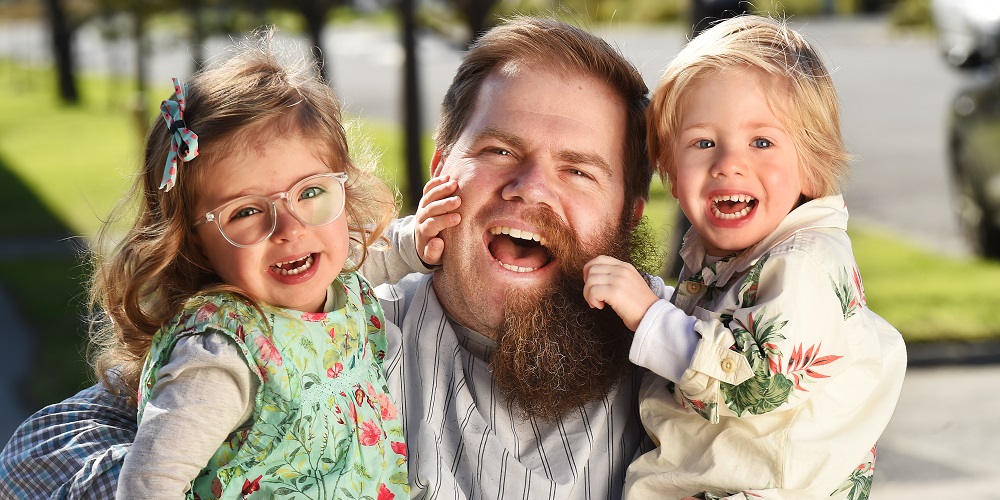 3 September 2016 | Fundraising
Father's Day has an extra special meaning for Radford White this year.
After 32 weeks of cultivation and grooming, Radford's impressive beard came off as he celebrated raising more than $12,000 for the Women's Neonatal Intensive Care Unit (NICU) Dads' Group.
There were shrieks and squeals of laughter from his three-year-old twins Rupert and Maisie as they watched their dad's lengthy beard disappear.
Radford's Books for Beards fundraiser was inspired by his own experience of having his twins in the Women's NICU, after his wife Kirsten went into labour early at just 29 weeks and six days' gestation on 8 July, 2013.
Radford said the NICU Dads' Group, set up by Neonatal Services Medical Director, Associate Professor Carl Kuschel, was a great support during the 14 weeks his twins were in intensive care.
The money raised by Radford and his team of fellow beard-growers will go towards the development of an e-book and podcast series of past-NICU dads' experiences and tips, to better support future dads navigate their way when their newborn is in NICU.
"This has been a terrific way to support dads in the NICU. They are often the forgotten parent and are balancing multiple responsibilities, loads of information we throw at them, and their own emotions and exhaustion," A/Prof Kuschel said.
"Radford has thrown himself into this campaign and we are so grateful for his enthusiasm and ideas. We're also grateful that another former NICU dad, Rodney, and two NICU doctors – Tim and Rocco – have got behind him as well.
"The funds raised will certainly be appreciated by the dads yet to have babies in NICU and we hope it will make their time with us less stressful."
Radford is now recruiting past-NICU dads to share their stories.
Email support@theradicaldads.com to get involved.