Blessed to take home two babies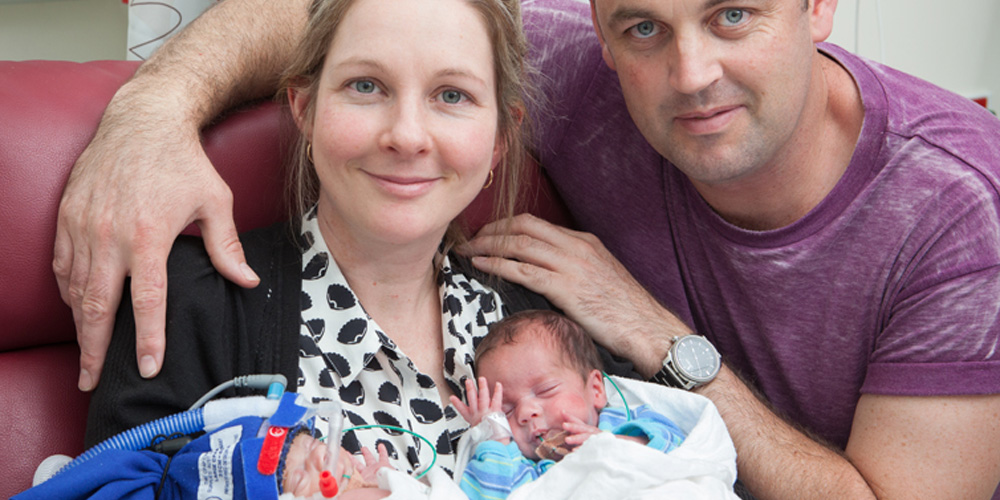 29 April 2014 | Pregnancy
Rachael Sutton and Mark Kerville knew early in their twin pregnancy that they may not take home two babies.
At just three months into the pregnancy the Victorian couple's sons were diagnosed with twin-to-twin transfusion syndrome (TTTS), a rare condition that occurs only in identical twins while they are in the womb. It can be fatal and requires expert care.
Rachael said being under the care of the Women's Multiple Pregnancy Clinic made her feel safe and supported because the health of her twin sons was closely monitored, but even so she was surprised when told they were to be delivered via an emergency caesarean at just 27.5 weeks.
"You are told to prepare," Rachael said. "When it actually happens, it is still a shock.
"I went to the Women's for my regular scan and it showed Ethan was not getting great blood flow through the placenta and the twins needed to be delivered that day."
Rachael and Mark said they had not even bought things for their precious baby boys.
"After their birth Mark had to make a mad dash to buy everything we needed."
But, after 10 weeks in the Newborn & Intensive Special Care unit at the Women's, brothers Ethan and Samuel are now home and bring much joy to their doting mum and dad. Rachael said they were going great guns.
"We never expected for it to go as well as it did," she said. "But we never gave up hope and we felt really blessed to have had Sam and Ethan in the Women's world-class facilities."