COSMOS midwives celebrate 10 years of one-to-one care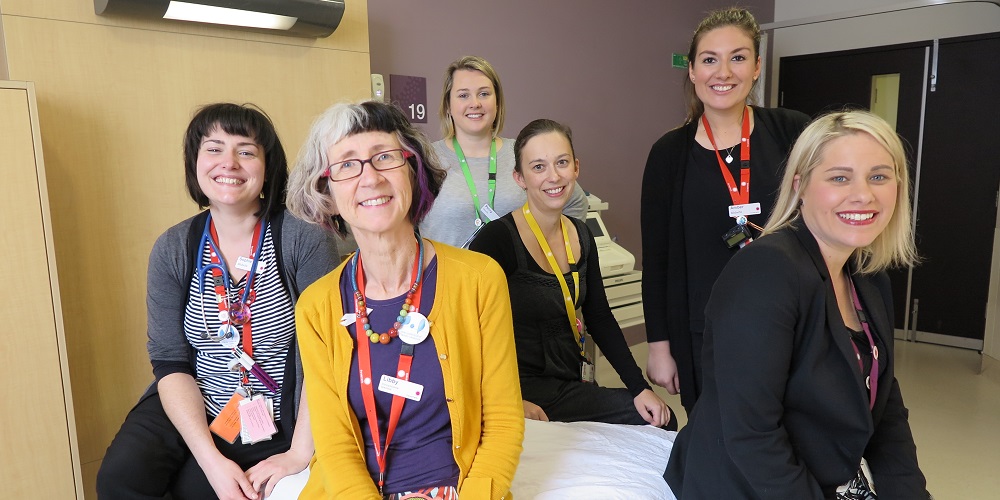 29 August 2017 | Pregnancy and newborns
August marks the 10th anniversary of caseload midwifery (known as COSMOS) at the Royal Women's Hospital.
Introduced as the largest research trial of its kind in 2007, the COSMOS trial – COmparing Standard Maternity care with One-to-one Midwifery Support – gave the Women's strong evidence to support the continuance of caseload midwifery.
The model of care, hailed as the "gold standard" of care, sees women assigned an individual midwife throughout their pregnancy, birth and early postnatal period, and has been shown to reduce caesarean births, epidural pain relief during labour, length of hospital stay, episiotomies, low birth weight babies and newborn admissions to special and intensive care.
The Women's Director of Midwifery and Maternity Services Research Professor Della Forster, who co-led the COSMOS trial, said caseload midwifery care provided women with continuity and individualised care from a known midwife (with two or three back-up midwives) throughout their pregnancy, labour and birth, and first days as a new mother.
"The midwives refer women to other health professionals as appropriate, and work collaboratively with obstetricians – women stay with their known midwife even if their particular pregnancy needs more specialised input" Prof Forster said, also from La Trobe University's Judith Lumley Centre.
"We conducted a really comprehensive evaluation of the midwives involved in the original trial, and we found much lower rates of burnout and much higher satisfaction scores in the midwives working in the caseload model compared to those working in the other models of care.
"So caseload has really positive outcomes for mothers, babies and midwives – for everyone involved."
To date, 4,544 women have been through the caseload program at the Women's.
New mum Sara got to know Amber as her midwife when she was 18 weeks pregnant with her son Macklin. Her pregnancy was not straightforward and following several episodes of bleeding, Sara gave birth to Macklin by emergency caesarean at 34 weeks and 6 days. He spent time in the high dependency and then neonatal intensive care units, followed by weeks in special care before being able to go home.
"Being in caseload was a fantastic experience for me," Sara said. "I have anxiety, so having one person to go to was amazing for me. I didn't have to explain myself every time I needed to speak to someone because my midwife Amber knew me and my situation – it was really reassuring."
Prof Forster said the Women's was part of a new five-year project to offer caseload midwifery care to one of its most vulnerable patient groups – Aboriginal and Torres Strait Islander women and their babies.
"Aboriginal and Torres Strait Islander mothers and babies often have poorer health outcomes and we are really pleased to be offering caseload midwifery care to all women who identify as Aboriginal or Torres Strait Islander, or who are having a baby who is Aboriginal or Torres Strait Islander" Prof Forster said.
"We started offering this care to Aboriginal or Torres Strait Islander women in March this year, and have three dedicated midwives working in what we call Baggarrook COSMOS. So far all 27 women offered the model have chosen to accept caseload care, we've had seven babies born, and early feedback is that the women and midwives are really enjoying the model of care."
The project, named Baggarrook Yurrongi (Woman's Journey), is a partnership between the Women's, La Trobe University, the Mercy Hospital for Women, Sunshine Hospital, Goulbourn Valley Health and The Victorian Aboriginal Community Controlled Health Organisation (VACCHO), with funding from the National Health and Medical Research Council. It has also offered a great opportunity for the Women's to work more closely the Victorian Aboriginal Health Service (VAHS), and for the Baggarrook COSMOS midwives to engage with Badjurr-Bulok Wilam, the Aboriginal Unit at the Women's.
"Our goal is to provide care that might improve the health of Aboriginal mothers and their babies. We want to 'close the gap' and also deliver services which are culturally sensitive, and responsive to the needs of our Aboriginal community," Prof Forster said.