Growing support for NICU dads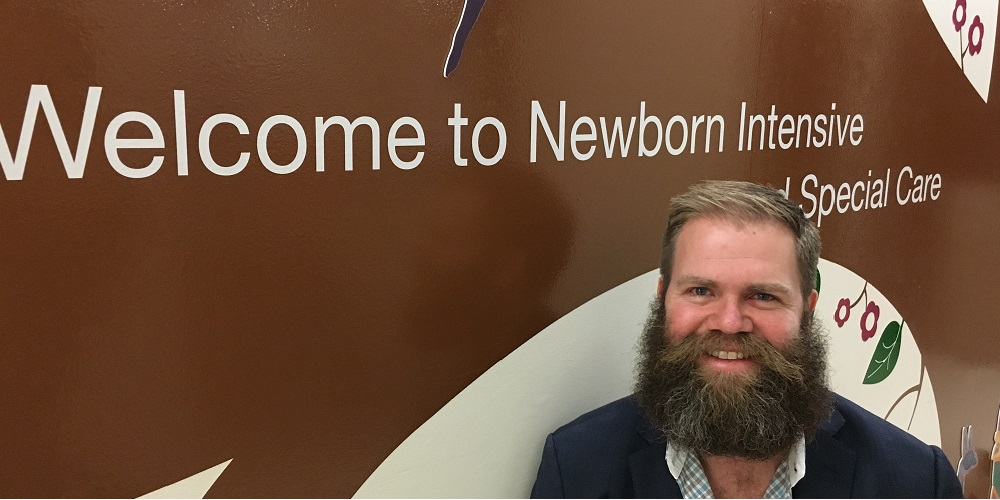 11 August 2016 | Fundraising | Pregnancy
Radford White is a man with a beard and an ambition to raise $10,000 for the Women's Neonatal Intensive Care Unit (NICU) Dads Group.
Radford's beard has been cultivating since Australia Day and will come off 32 weeks later, on Father's Day next month, about the average duration of a pre-term birth in Australia.
The drive behind Radford's fundraiser stems from his own experience as a NICU dad at the Women's, when he and his wife Kirsten's twins Rupert and Maisie were born 10 weeks early on July 19, 2013.
"I found as a NICU dad coming in to this environment that there's not a lot of support for a NICU dad, there's a lot of support for women which is great and really needed, but there's not a lot for the dads," Radford said.
While his twins were recovering, Radford joined the NICU Dads' Group – the brainchild of Associate Professor Carl Kuschel, Medical Director of Neonatal Services. Carl had seen that NICU dads needed to be able to share their experiences with other dads going through the same thing; to help each other negotiate what was, after all, a whole new world.
Radford's fundraising efforts will support future NICU dads through the collation of stories and experiences of past NICU dads, both in a written form and podcasts, to help those trying to grapple with a newborn in intensive care.
Visit his Books for Beards fundraising page to donate.
Radford is also recruiting past NICU dads to share their experience. Email support@theradicaldads.com to get involved.