Heading home for Christmas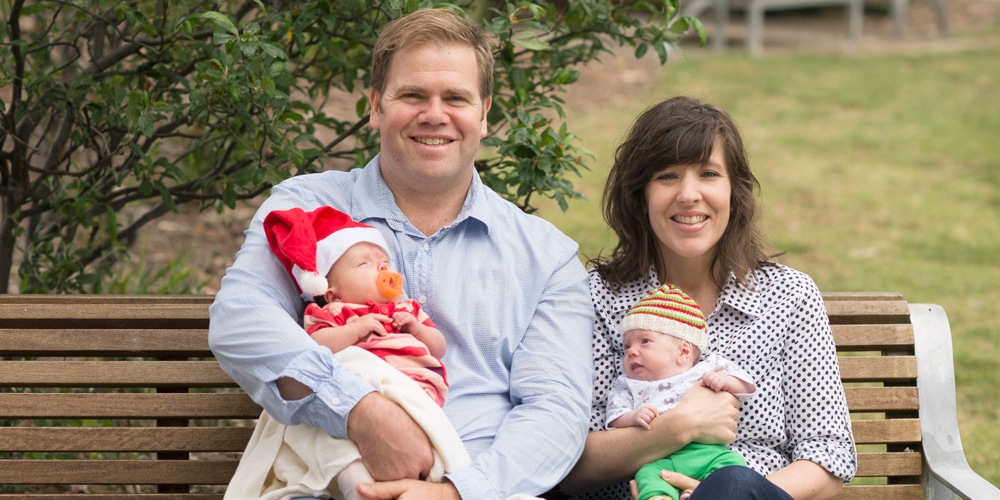 19 December 2013 | Events
On Father's Day, new dad Radford White was featured in a story for the Sunday Age newspaper, promoting a new dad's group for fathers of premature babies.
He was an obvious choice to grace the front page: overjoyed, over-the-moon and, he admitted, a little over-awed at becoming a dad to twins Rupert and Maisie, born in July.
The babies, the first for Radford and wife Kristen, were born at the Women's after an emergency caesarean just before 30 weeks' gestation when a scan showed complications for tiny Rupert. Both babies were then cared for in our Newborn Intensive & Special Care (NISC) unit.
Radford agreed to be interviewed for the story because he wanted to help promote a new dads' group, an initiative of the Clinical Director of Neonatal Services, Associate Professor Carl Kuschel. Carl had seen that NISC dads needed to be able to share their experiences with other dads going through the same thing; to help each other negotiate what was, after all, a whole new world.
Radford said he wasn't too sure about the group at first, but attended a meeting a couple of days after the twins were born to see what it was like.
He likened it to a football game, describing the group as a bit like a half-time address. Dads got that.
Carl also liked the analogy. He said the idea of setting up the group was to help dads that he often saw trying to juggle so many responsibilities including caring for other children, members of the extended family as well as their partner and a new baby.
Donate now to support Newborn Intensive & Special Care.