Janessa's mum never gave up hope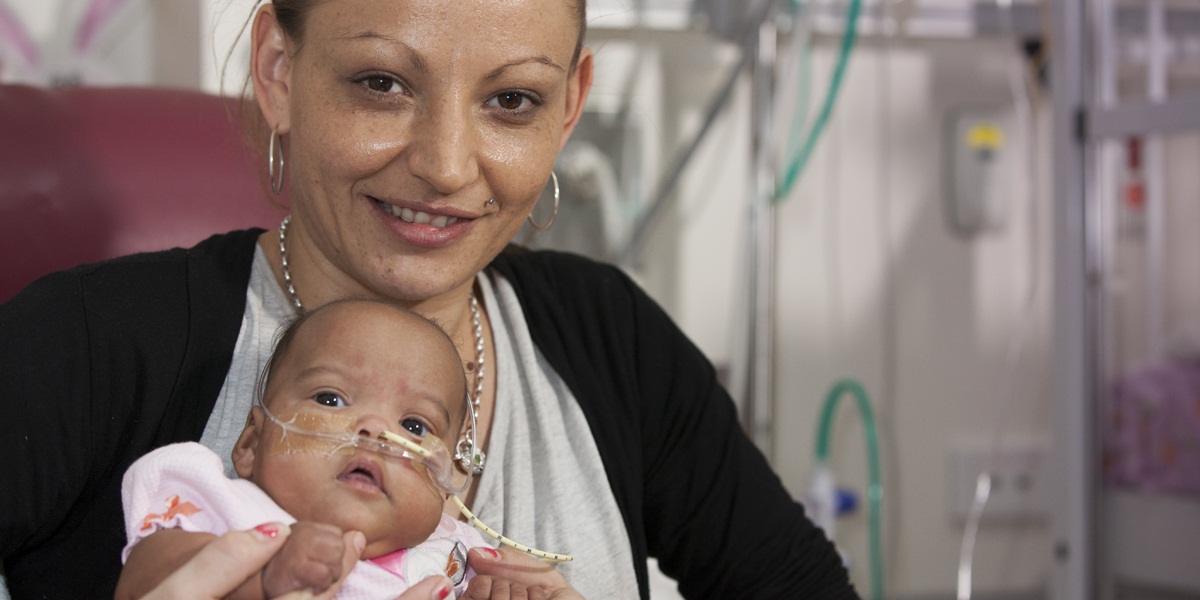 9 May 2014 | Pregnancy
After almost 170 days in the Newborn Intensive Care Unit at the Women's, baby Janessa is heading closer to home to be with her family.
Janessa's family lives in Ballarat and for almost six months her remarkable mum Brooke Oakroot has juggled caring for her family and her daughter 113 km apart.
"Without the Family Accommodation Service units I don't know what I would have done," Brooke said. "It would have been impossible."
Brooke also has an eight-year-old and said it had made a huge difference to be able to bring her older child to Melbourne to stay in the units at the weekends. She said it gave them a chance to have some normal family time during what was a stressful time.
Back in November Brooke was rushed to the Women's at just 23 weeks and four days into her pregnancy. She was diagnosed with Chorioamnionitis a condition in pregnant women in which the membranes that surround the fetus and the amniotic fluid are infected by bacteria.
Her baby was delivered that same day; a tiny 517g (around 1lb 2oz), but a fighter.
"Her lungs were very immature," Brooke said of Janessa. "There were times we didn't think Janessa was going to make it, but I held on to hope. I never gave up."
The day after Mother's Day Janessa will be transferred to Ballarat Hospital where she will stay until she is ready to go home for good.
"We can't wait, we are very excited to be taking her home," Brooke said.
"We can't express how important the Family Accommodation Services are.
"By being so close I have been able to start breastfeeding Janessa and to give her a bath and a cuddle."
If you would like to help, you can donate to the Women's Family Accommodation Project.
You might like to read more about the Family Accommodation renovation project
'The working bee at the Women's Family Accommodation Units in Grattan Street has got us off to a great start with our renovations.
With the support of businesses including IKEA, Hafele Australia, Masters and Dulux Australia and the incredibly hard-working students from Chisholm Institute, the kitchens and bathrooms have been removed - as you can see from these images - and the walls have been scrubbed with sugar soap ready for the Dulux paint treatment'.. from 'we need a helping hand'.