Lynette's team band together for the Women's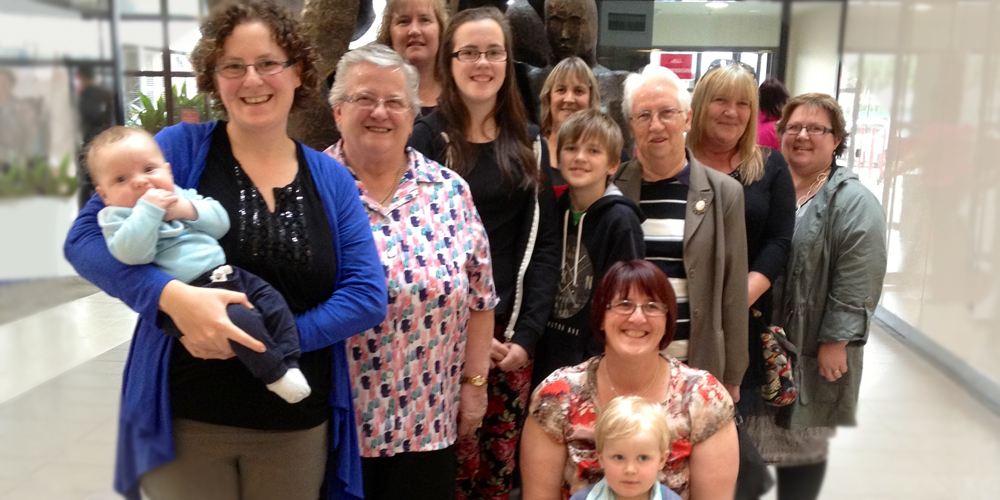 8 October 2014 |
Lynette Robertson brought by a bus, driven by her mother, a dozen or so family and friends from Colac to Parkville today. They came to help deliver items of clothing made for our Reproductive Loss Service.
It was important to Lynette that the delivery was made today; 10 years since her daughter, Abbey Suzanne Robertson, was born at the Women's. Abbey was her fourth child, but born at 25 weeks and did not survive.
Earlier this year Lynette set up a Facebook group called Precious Memories asking for volunteers to help make items of clothing for the Women's Reproductive Loss Service. Within six months she had recruited almost 100 family and friends.
"My goal was one plastic box of clothing," Lynette said. "We ended up with five."
Dilys Luciani, the volunteer co-ordinator at the Women's, said this represented many hundreds of hours of work.
"We are delighted to have helped," Lynette's mum Noelene Sadler said.
Sister-in-law Carol Benson, who made the trip from Colac to Parkville to deliver the beautifully and lovingly made clothes, said at times it was difficult making the tiny booties and bonnets. "But Lynette would remind us how important these items of clothing were for families who had lost a baby," Carol said.
Those who couldn't knit or sew donated materials, including wool, fabric, trims, ribbons and tiny teddies. One woman gave her wedding dress to be used to make tiny satin and lace dresses. A cousin paid for the petrol for the bus journey to Melbourne and a company in Colac donated the bus for the day.
"The response has been amazing," Lynette said.
She told her Facebook followers on the eve before the journey from Colac to Parkville this week: "I am feeling quiet emotional from the generosity of so many people. I have so much pride and pleasure to be able to hand over our hard work that has been lovingly made to help so many families at such a difficult time in their life".
Our thanks, too, to Lynette and her family and friends for such a generous and caring gift to the Women's Reproductive Loss Service.
Pictured from left: Lynette's sister Melanie Bourchier with sons Henry (4 months) and Lynette kneeling and nursing Nathaniel, 2. Next is her mum Noelene Sadler and daughter Sophie and son Scott. Behind is sister-in-law Pamela McNaughton, mother-in-law Yvonne Robertson, her friend Leeanne Crabbe and sister-in-law Carol Benson and friend Karen Price.