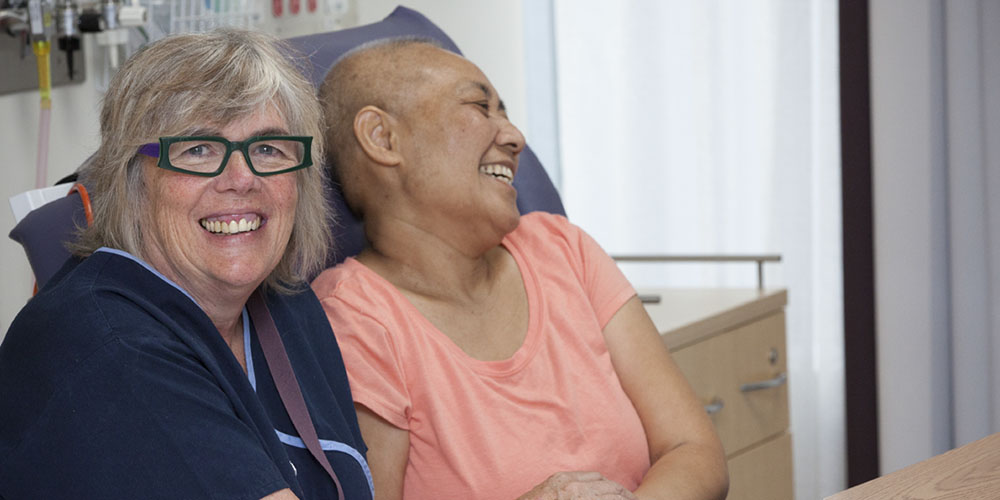 28 February 2014 | Cancer
Upon stepping foot in the chemo room at the Women's the first thing one notices is what a surprisingly happy environment it is.
The positive atmosphere can be attributed directly to the Women's oncology staff – a key member of which is Julene Hallo, Senior Research Nurse, Gynaecology and Oncology Clinical Trials.
"You have to be upbeat," Julene says. "The patients don't want to come to an environment where people are down. They're happy to see people fooling about, doing crossword puzzles and laughing."
Julene trained in general nursing and midwifery at the Women's more than 40 years ago, eventually moving onto outpatients and then onto special clinics where she developed an interest in oncology and oncology research.
"My job is important because you make a difference to women with ovarian cancer," Julene says.
"Over the last 25 years, the quality of life for women with ovarian cancer has improved and people are living longer. There are more clinical trials, there are more treatments.
"We're not curing it yet, but we're getting there. The only way we're ever going to cure any sort of cancer is with research."
Her favourite part of her job is the women she treats. "I've decided that only nice people get cancer, because I don't think I've met anyone I haven't liked," Julene says. "They are really lovely ladies. All the staff get really close with the patients and their families."
Julene urges women across Victoria to see their GP if they've got any symptoms at all. "Because the symptoms of ovarian cancer are so vague, people often only pick it up when it's full blown," she says.
"If you've got any symptoms at all (and the basic symptoms are bloating, your clothes feeling tight, just not feeling right) go and see your GP. Don't wait. If you don't feel right – get yourself checked out."