Premier applauds Brett's research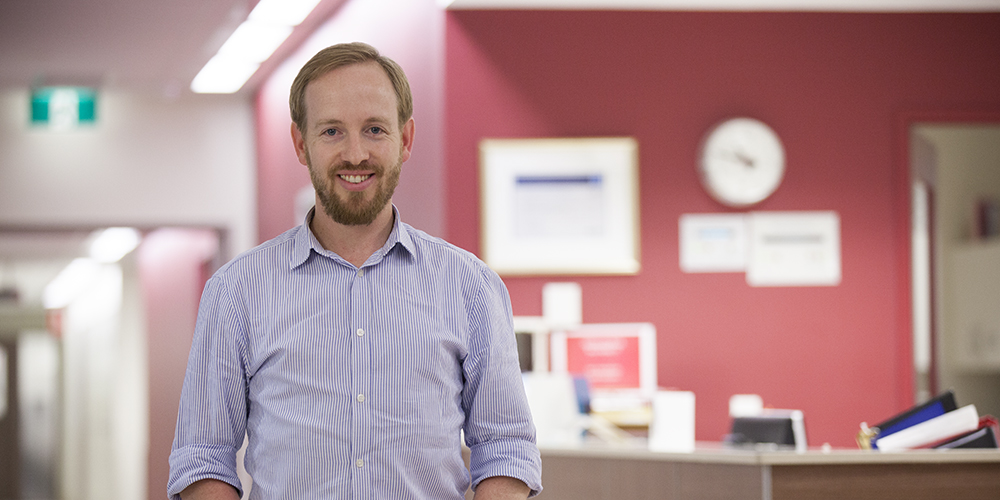 2 June 2014 | Pregnancy | Research and clinical trials
At Government House on Monday 2 June Dr Brett Manley received a commendation at the 2014 Premier's Award for Health and Medical Research. The commendation was presented by the Governor of Victoria, Alex Chernov.
Dr Manley, a neonatologist at the Women's, received the prestigious honour for his internationally-applauded investigation into breathing support for preterm babies.
His research, under the guidance of Prof Peter Davis from the Women's Newborn Research Centre, found that high-flow nasal cannulae, a simpler, more comfortable method of supporting the breathing of very preterm babies, was safe and effective. The results of this study were published in the prestigious New England Journal of Medicine late last year.
Brett became interested in studying high-flow nasal cannulae some years ago when considering a PhD.
"In 2009 I approached Peter Davis about joining his research group and undertaking my PhD," Brett said. "I was interested in undertaking a clinical trial in the respiratory support or resuscitation fields, and together we determined that HFNC support, an increasingly popular form of respiratory support for preterm infants, was crying out for some clinical evidence to support its use. There has been a lot of interest in the results of our study".
The trial involved 303 babies at the Women's in Melbourne, the Women's and Children's Hospital in Adelaide and the Royal Brisbane and Women's Hospital.

As a Consultant Neonatologist at the Women's, Brett is responsible for caring for sick newborn babies, who were often born preterm, in the Neonatal Intensive Special Care unit at the hospital, and following them up after discharge home. He is also a Senior Lecturer at the University of Melbourne.
"My university role incorporates newborn research through clinical trials, and also medical and nursing student teaching," Brett said.
He is now working on some new clinical trials in the Newborn Research Centre at the Women's. "We are taking the next steps with our high-flow research, and have started a very large trial of this support from soon after birth in preterm infants," Brett said.
"We also want to roll a trial out in non-tertiary special care nurseries around Australia, as we think high-flow may be an easy-to-use therapy in this environment.
"The team is also studying the optimal timing of umbilical cord clamping after birth. Delaying cord clamping for several minutes after birth is a current hot topic in obstetrics and neonatology."
Asked what the commendation from the Premier meant to him, Brett said professionally it would help him to disseminate the results of his research at medical meetings around Australia and internationally.
"It will also aid me tremendously with future applications for research funding. Personally I am very proud of this achievement and very grateful to my supervisors, mentors and family who have supported me so much during my PhD."