Prestigious award for A/Prof Leslie Reti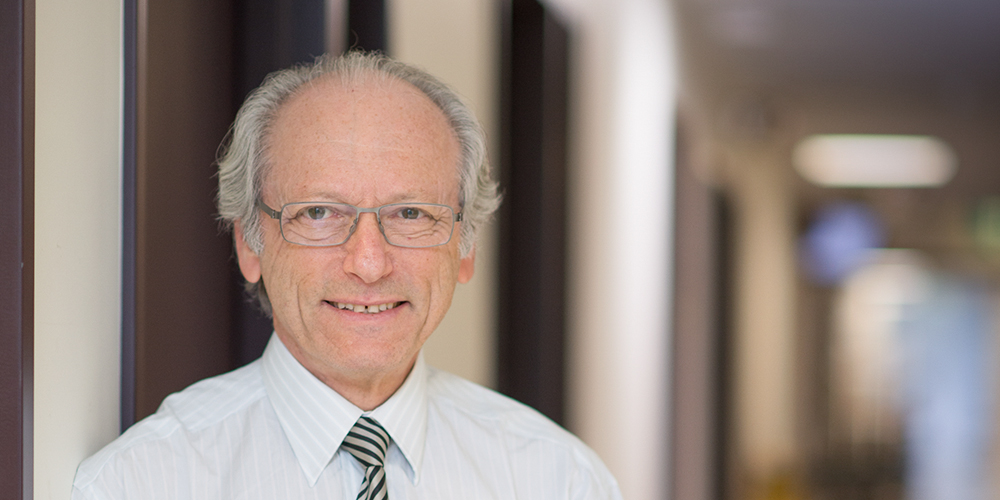 29 November 2013 | Events
Associate Professor Leslie Reti (pictured) from the Women's was named the recipient of the 2013 Victorian Public Healthcare Lifetime Achievement Award at a special event in Melbourne last night.
The pioneer in women's health was honoured at the prestigious Victorian Healthcare Awards, presented by the Victorian Premier Dr Denis Napthine. A/Prof Reti said he was surprised and very humbled by the honour and he thanked his family and colleagues at the Women's for their support.
A/Prof Reti is the Clinical Director of Gynaecology, Perioperative Services and Women's Cancer at the Women's. A/Prof Reti is also Clinical Director of Clinical Governance. He has been instrumental in promoting and leading quality improvement in the delivery of healthcare across the Women's.
A/Prof Reti is a passionate health professional who has dedicated more than 40 years to improving not only the delivery of healthcare, but also the quality and safety of care to women in Victoria.
Of his Lifetime Achievement Award, A/Prof Reti said it was a combination of years of work by teams. "I have been very fortunate to have been associated with some wonderful teams," he said.
He still sees his job very much as being a gynaecologist. "I see myself as a clinician; a gynaecologist who has some other responsibilities," A/Prof Reti said.

Those other responsibilities include the role of senior gynaecologist at the Women's and the Director of Quality and Safety. He is committed to improving not just clinical obstetrics and gynaecology, but also the quality and safety of care and the organisational aspects of clinical practice.

Indeed, A/Prof Reti says to deliver high quality care involves not just the science of care, but also the mechanisms and processes which he sees as absolutely critical. "These processes also need to be continually improved," he said. "There will always be things to improve on; what is best today won't be best next year or the year after that." It was his passion for women's health; his determination to deliver high quality care, that saw him help establish the Centre Against Sexual Assault (CASA) House almost three decades ago.

In 1986 A/Prof Reti developed a model of service delivery for victim-survivors of sexual assault that became CASA House at the Women's. He also led and chaired the first Committee of Management for CASA House, which became the model for CASA organisations across metropolitan and regional Victoria.

Under his guidance, CASA House led the development of statewide standards of practice, after hours crisis care and a Code of Conduct for Victoria Police governing protocols in responding to victim-survivors of sexual assault. A/Prof Reti's influence has meant a changed approach taken by the courts, Victoria Police and health system to victim-survivors. Today, CASA House is a free facility providing crisis care, counselling and public awareness campaigns to sexual assault victims. It is the largest centre serving victim-survivors of sexual assault across Australia. Dr Chris Bayly, Senior Clinical Advisor in the Women's Health Service at the Women's said of her friend and colleague: "He doesn't just see patients in his clinical role as a gynaecologist, he is always thinking about how things are done and how they could be done better. "Les has implemented and supported system changes and improvements throughout the hospital, including the Clinical Practice Guidelines and audit and review processes."

A/Prof Reti said he knew as a teenager he wanted to help women and help people with their problems and this is what led him to a career in medicine, although initially the intention was to become a psychiatrist.

"About 10 minutes after I was first exposed to a birth as a medical student I quickly realised it was what I wanted to do," he said.
"I went into obstetrics/gynaecology to deliver babies for a long time, but then realised that to provide a good service you need to attend to the bigger issues as well."

Four decades on, he is still attending to those bigger issues to improve women's health in Victoria.

On Monday A/Prof Reti will co-host the third annual White Ribbon Day Breakfast along with senior male staff and hospital Board members from the Women's to help profile violence against women as a health issue.

White Ribbon Day is the International Day for the Elimination of Violence Against Women.