Prestigious medal awarded to senior gynaecologist at the Women's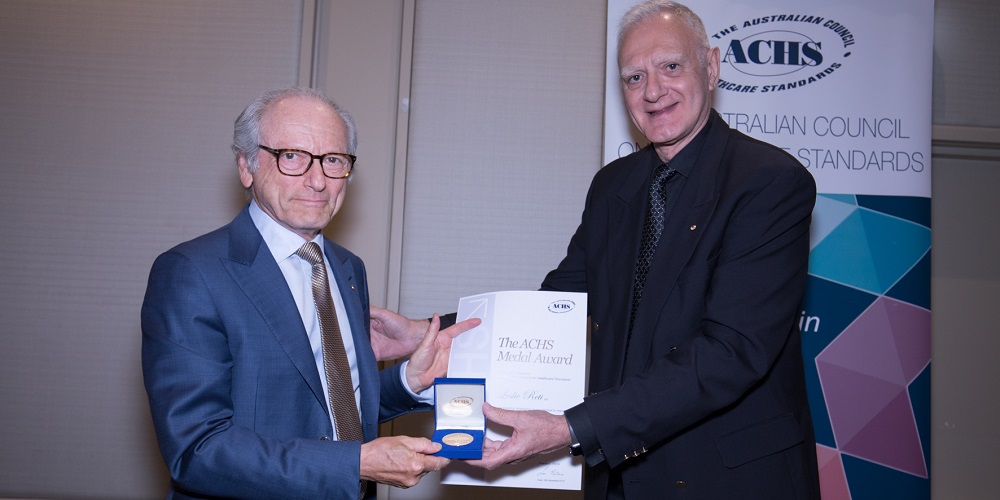 2 December 2019 |
The Australian Council on Healthcare Standards (ACHS) has awarded its prestigious ACHS Medal 2019 to Associate Professor Leslie Reti AM – a women's health advocate and senior gynaecologist at the Royal Women's Hospital.
Associate Professor Reti started at the Women's in 1982 and officially retired earlier this year. He is Chair of the Women's History, Archives and Alumni Committee and continues to consult privately at the hospital. He is also on the board of directors at the Peter MacCallum Cancer Centre.
In a 40-year career, he has demonstrated a keen responsibility for clinical excellence and the highest levels of patient care, and his knowledge and compassion have seen him develop and champion some of Victoria's most successful and well-regarded women's health and wellbeing programs.
For 29 years A/Professor Reti has been dedicated to preventing violence against women. He has guided policy and developed progressive programs and new systems which have made a direct and positive difference to the health and wellbeing of thousands of people.
He led and chaired the first Committee of Management for the Coalition Against Sexual Assault (CASA) House which became the model for CASA organisations across metropolitan and regional Victoria. He is noted for his genuine and insightful understanding of the systemic issues which affect women, especially vulnerable women.
Chief Executive Officer at the Women's, Dr Sue Matthews, said she was thrilled that A/Professor Les Reti's positive impact on healthcare in Australia has been recognised in this way.
"On behalf of our colleagues at the Royal Women's Hospital, I'd like to congratulate Les on this fantastic achievement.
"Les is highly respected by the Women's for his clinical expertise, his passion for women's health and his dedicated leadership. He embodies everything that makes the Women's a very special organisation.
"This is another accolade that affirms the wide-reaching influence that Les has had on the quality and safety of women's healthcare in Australia. We are truly proud to be able to call Les a colleague."
In presenting the award, ACHS President Professor Len Notaras, AM said "On behalf of the Board of ACHS I am delighted to present this award to an experienced clinician who has demonstrated his commitment through improving quality and safety in healthcare," he said.
"The awarding of the ACHS Medal recognises the outstanding contribution from an individual and many in the community have benefited from his work as an innovator always striving for excellence," said Professor Notaras.