Preterm babies breathing easier closer to home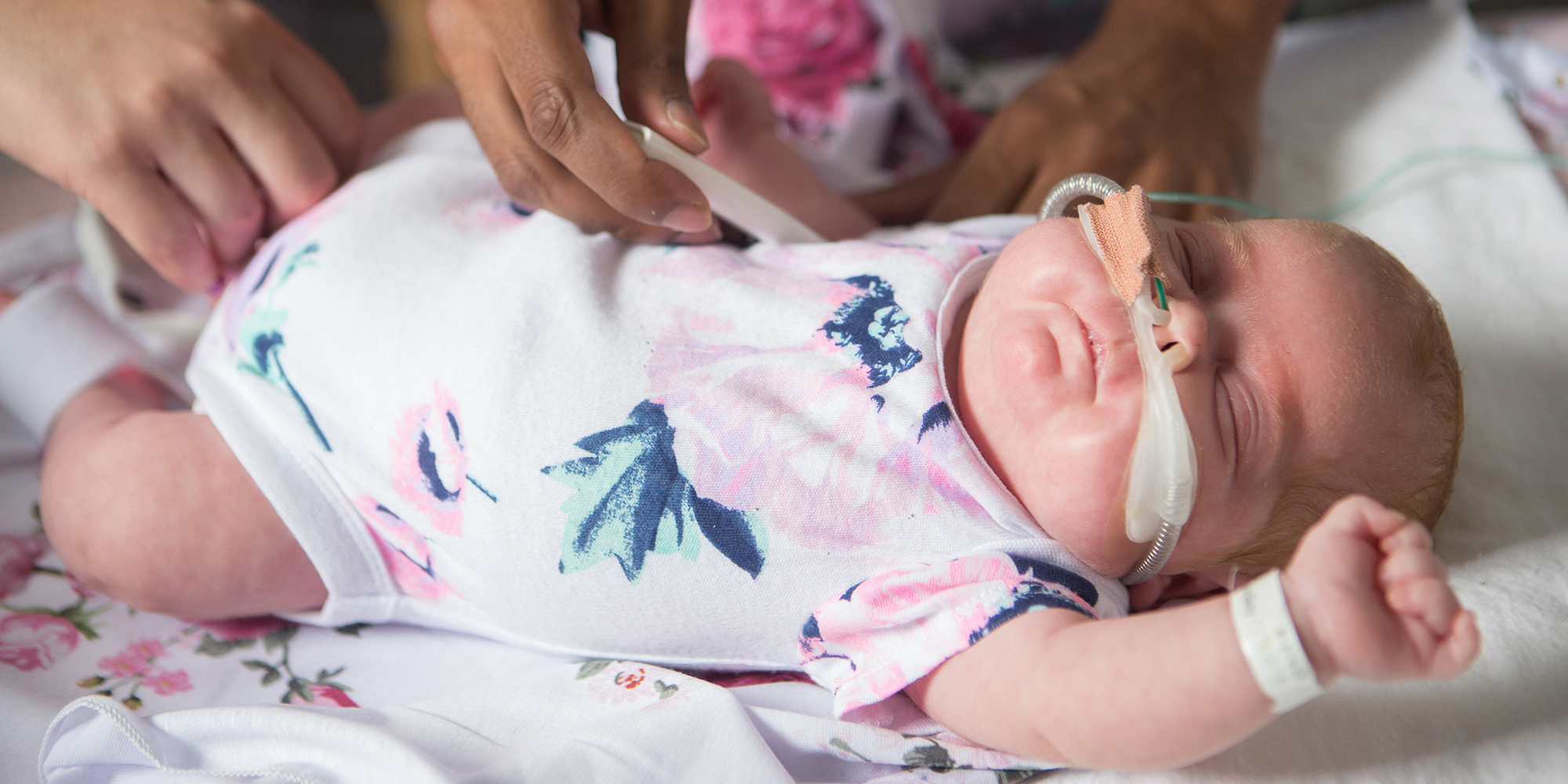 24 May 2019 | Pregnancy | Research and clinical trials
Babies born 31 weeks' gestation or later could be breathing easier closer to home, thanks to a landmark Australian study that has highlighted the most effective methods of respiratory support available in non-tertiary hospitals.
The HUNTER trial, published in the New England Journal of Medicine, was led by the Royal Women's Hospital and University of Melbourne and involved nine non-tertiary (non-academic) hospitals in Victoria and New South Wales, recruiting more than 750 preterm babies in special care nurseries between 2015-2017.
The use of a simpler and more gentle breathing support, nasal high-flow therapy - small prongs placed in the baby's nose and gently attached to their cheeks – was assessed as a first-line treatment for these babies in their first 24 hours of life, as opposed to the more well-established breathing support of nasal Continuous Positive Airway Pressure (CPAP), which uses larger prongs fitted into the baby's nose and tubing strapped to a special hat that the baby must wear.
In cases where treatment with high-flow was unsuccessful during the first 24 hours, babies were changed to the standard CPAP treatment.
The large, multi-state trial was particularly unique and ground-breaking due to it being conducted in smaller, non-academic hospitals where newborn clinical research on this scale is not commonly carried out. It was funded by a National Health and Medical Research Council (NHMRC) grant coordinated through the Women's and University of Melbourne.
The Women's lead researcher and neonatal consultant Dr Brett Manley said comparing the two breathing supports as first-line treatments had highlighted how clinicians could optimise care for babies in non-tertiary hospitals.
"While the HUNTER trial showed that CPAP was still the better respiratory support for some newborn infants, in about 80 per cent of the babies high-flow worked well and they didn't need any other breathing intervention," Dr Manley said.
"In the babies that had to move onto CPAP after starting with high-flow, their outcomes were the same as if they'd been on CPAP from the beginning, so we now know that there is the option to start some babies on the more gentle breathing support if hospitals wish to do so.
"The great majority of preterm babies born at 32 weeks and above are cared for in non-tertiary hospitals, so the HUNTER trial has provided clarity around how to best support the breathing of these tiny patients."
Associate Professor Adam Buckmaster, of Gosford Hospital in New South Wales, echoed Dr Manley's sentiments.
"This study has not only answered questions about nasal high-flow but also shown that research in non-tertiary settings can be successfully undertaken when the resources, expertise and leadership are shared in a collaborative way," Assoc. Prof Buckmaster said.
"We hope that the strong collaboration that developed with this trial will lead to many more studies in the future, helping to answer the clinically important questions for infants and families delivering in non-tertiary centres around Australia."
Dr Rosalynn Pszczola, neonatologist and researcher from Sunshine Hospital (now the Joan Kirner Women's and Children's), agreed.
"Importantly, this study also showed the significance of conducting research and developing evidence relevant to our patients here at Western Health and in other non-tertiary hospitals, rather than in the larger tertiary centres that may not be representative of our patient population," Dr Pszczola said.
Dr Manley said nasal high-flow was a simpler, gentler and more comfortable support for babies, and is much easier for health professionals to apply and maintain.
"It also provides parents greater ability to hold and care for their baby than the more cumbersome CPAP device," he said.
Dr Manley will now assist in writing the Victorian guideline for how to provide respiratory support to newborn infants in non-tertiary hospitals.
"Ultimately it's about optimising care for those little babies and trying to keep them in the non-tertiary hospitals, which are usually closer to their family's home, and work out what is the best breathing support for an individual baby," Dr Manley said.
Hospitals involved in the HUNTER trial were:
Sunshine Hospital
Northern Hospital
Box Hill Hospital
The Angliss Hospital
Casey Hospital
Dandenong Hospital
Geelong University Hospital
Gosford Hospital
Wollongong Hospital