Retinopathy screening service for premature babies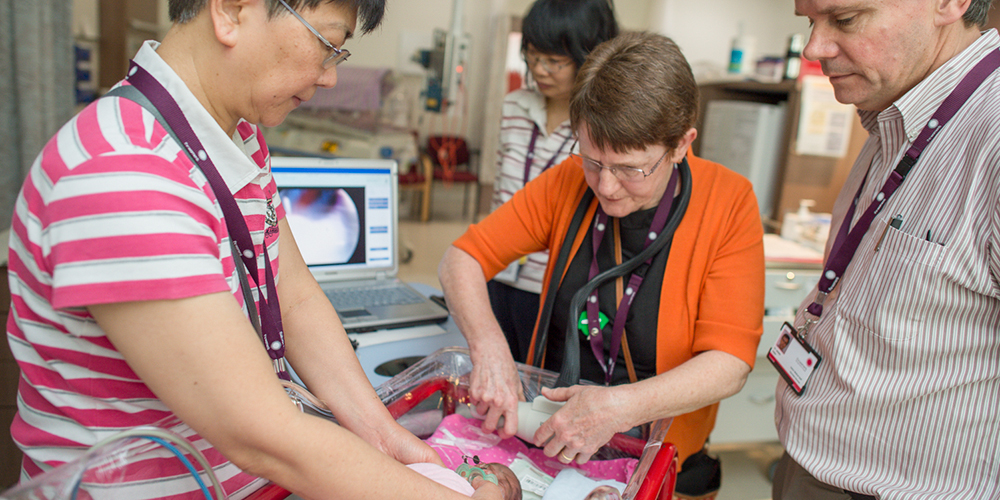 19 November 2013 | Pregnancy | Research and clinical trials
Detecting eye damage in premature babies for fast and effective treatment.
We are investing in new clinical technology that improves the health of women and newborns.
Retinopathy of Prematurity (ROP) is an eye disease that affects babies born prematurely. In most cases, ROP is mild and resolves spontaneously, but it may lead to blindness if it is not detected and treated.
ROP is one of the most common causes of visual loss in childhood that leads to lifelong vision impairment and blindness. Singer Stevie Wonder is blind because he was born prematurely and developed ROP.
The smallest and most vulnerable babies will have at least five – and perhaps as many as 12 – eye examinations while they are in newborn intensive and special care.
Many hospitals in Victoria are not able to provide on-site screening for ROP, because there is a lack of available, suitably-trained, ophthalmologists (specialist eye doctors) to do the screening. This means that many babies need to stay in specialist facilities, like the Women's, for ROP screening, rather than going to a hospital closer to their home.
The Women's has developed a nurse-led Newborn ROP Screening Service as a solution. We trained two neonatal nurses to use a type of digital camera, a RetCam, that takes images of the retina at the back of the eye. These images are assessed by supervising ophthalmologists who diagnose ROP and plan the treatment and re-screening for the baby.
This service has the potential to be developed as an outreach service across Victoria to assist at other Special Care Nurseries.
The Newborn ROP Screening Service was made possible by donations to the Royal Women's Hospital Foundation from the Oscar & Luca Fund and the Mathieson Family.