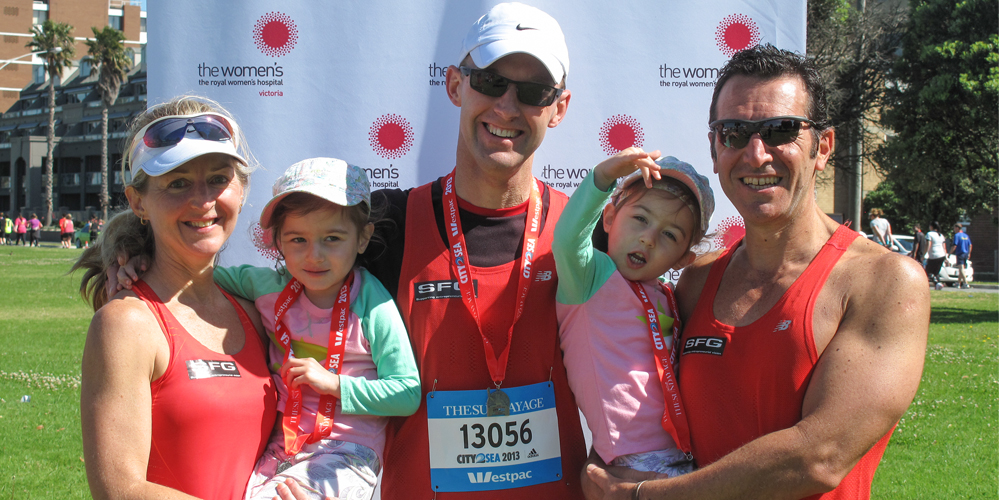 7 January 2014 | Fundraising | Pregnancy
It was Frank and Robyn's appreciation of the around-the-clock care provided to their twin girls, Lara and Shelby, which inspired them to raise money for the Newborn Intensive & Special Care (NISC) unit at the Women's.
In November, the couple – with colleagues from Frank's company SFG Investments and Associate Professor Carl Kuschel, the Clinical Director of Neonatal Services at the Women's – ran the City2Sea in Melbourne.
"We wanted to buy some equipment for the NISC unit," Frank said. "We were told a portable X-Ray machine, costing about $20,000, was needed so our goal was to raise the money for that."
Frank, through SFG Investments, kick-started the appeal with the first $10,000 and then ran the City2Sea to raise awareness and the remaining $10,000.
Appropriately, the run was held on World Prematurity Day, which helps raise awareness of the one in 12 babies born premature in Australia each year.
Of his SFG team's commitment to help raise the money, Frank said many of them went through the journey with them and experienced what the Women's had done for them.
That journey started in January 2010 when Robyn was admitted to hospital with complications, 19 weeks pregnant with their precious twin girls.
Her Obstetrician, Associate Professor Mark Umstead, provided expert care for Robyn and she remained on bed rest at the hospital until at 32 weeks, Lara and Shelby arrived. They were tiny, but perfect.
"The girls wouldn't be here today without the care we received at the Women's," Frank said.
"Today they are happy and healthy," Robyn said, "Such gorgeous little girls. We have so much to be thankful for."
Visit Gifts to help premature babies to read more of the family's amazing efforts for our NISC.
Donate now to support Newborn Intensive & Special Care.