The Women's Staff Awards 2017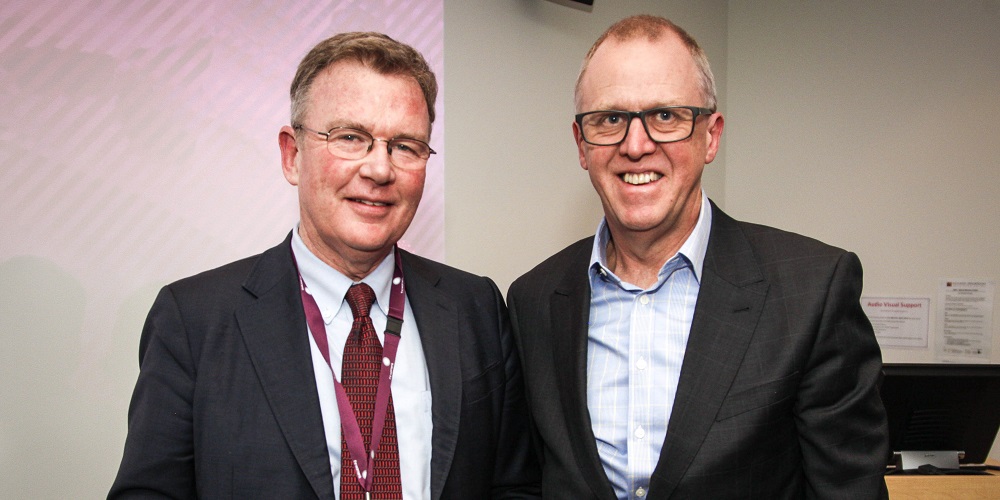 25 August 2017 | Events
Professor Bruce Mann has been honoured for his leading role in breast cancer treatment and research at the annual Women's Staff Awards, receiving the Woodward Family Medal of Excellence.
Prof Mann, Director of the Women's and Royal Melbourne Hospital Shared Breast Service and Director of the Breast Tumour Stream for the Victorian Comprehensive Cancer Centre, began his career in general surgery, before developing an interest and specialising in breast cancer.
His colleagues and peers paid tribute to him in a video on the awards night, commending Prof Mann for his professionalism, and dedication to research and his patients.
Prof Mann has also been instrumental in bringing together staff from the Women's, Royal Melbourne Hospital and Peter MacCallum Cancer Centre under the VCCC Breast Tumour Stream.
"The Breast Tumour Stream, we are in a very good position because we have such talent and so many good people from all the partner organisations," Prof Mann said.
"My job is to bring them together to bring out the best."
The Woodward Family Medal of Excellence is the highest honour awarded at the annual Women's Staff Awards.
It recognises the extraordinary achievements over 10 years of an individual, which have contributed significantly to improving the health of women and/or newborns.
The Women's CEO Dr Sue Matthews congratulated all the 2017 award and years of service recipients.
"We pride ourselves on putting women, babies and their families at the heart of everything we do. And while I know it is not always easy, every day, I see firsthand examples of the work and effort our people put in to achieve that ambitious goal," Dr Matthews said.
The Women's Staff Awards winners for 2017 are:
Woodward Family Medal of Excellence
Professor Bruce Mann, Director of the Breast Tumour Stream, VCCC and Director of the Shared Breast Service, Royal Melbourne Hospital and Royal Women's Hospital
Chair's Award for Innovation
Debra Gook, Research Scientist
Chief Executive's Award for Exceptional Leadership
Rosanne Spry, Women's Health Manager
Liliana Ferrara Diversity Award
The Language Services Team
Star Performer Awards
Colleen Stephens, Patient Services Assistant
Nina Grillo, Social Worker, Neonatal Services
Georgia Shepherd, Employee Relations Manager, People, Culture and Wellbeing
Catherine Graham, Patient Liaison Manager, Finance Services
Elise Waters, Registered Midwife, Blue Team
Louise Owen, Consultant Neonatologist, Neonatal Services
Barbara Hunter, Associate Unit Manager, Women's Emergency Centre
Bianca Dalton, Access Centre clerical team
Serge Sapozhnikov, Volunteer
Business Performance Reporting Unit
Betty Amsden Women's Health Leadership Scholarship
Jenny Ryan, Director of Maternity Services
Donna Smith, Manager of Physiotherapy
Diane Foster Bursary
Renee Jones, Registered Nurse, Perioperative Services
Phoebe Parish, Graduate Nurse, Neonatal Services
Soroptimist Club of Chisholm Travel Grant
Lorri Chandler, Acting Manager, Social Work