Triplets bring the Yacoub children count to nine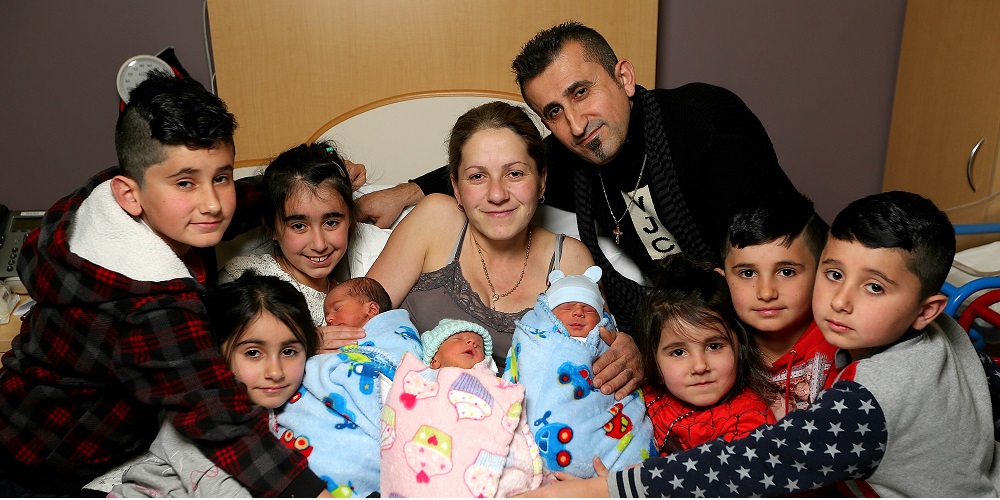 16 July 2016 | Pregnancy
A special delivery of triplets was welcomed at the Women's this week, not only by their parents but their six older brothers and sisters.
Herald Sun health reporter Evonne Madden featured mum Nihal Yacoub, her husband Putres, their children Michael, 12, Marina, 10, Martin, 9, Marvin, 7, Martina, 6, Miguel, 4 and newest additions Mario, Mary and Mina in Saturday's paper.
Bringing the Yacoub children tally to nine, the triplets were born at 35 weeks and three days on Monday 11 July, weighing a combined 7.5kg, after a near textbook multiple pregnancy.
However, news she was carrying triplets was a bit of a surprise for Mrs Yacoub when she went for her first ultrasound.
"First they said 'it's twins'," Mrs Yacoub said.
"And then 'wait, wait — I found another one!'"
The Women's is the first Victorian hospital to have a dedicated multiple birth clinic, delivering about 10 sets of triplets each year. In February the clinic will celebrate its 20th anniversary.
Dr Steve Cole, head of the clinic, told the Herald Sun Mrs Yacoub's pregnancy and birth was relatively straightforward, but "complex decisions" were often needed to be made during triplet pregnancies.
"Almost any complication that you can think of is more common in multiple pregnancies," Dr Cole said.
"Carrying three babies is very challenging."