Updates on COVID-19 from the Women's 26 March 2020 |
The Royal Women's Hospital is closely monitoring developments regarding the novel coronavirus (COVID-19) and is taking all advised precautions.
The health of our patients, visitors and staff is our biggest priority. We have put in place a number of measures to keep our community safe while providing the highest level of care.
Screening measures at the Women's
There will be new COVID-19 screening measures in place for everyone entering the Royal Women's Hospital from Monday 23 March 2020. Every person entering the hospital will be asked by a member of staff:
If they have been overseas in the last 14 days;
If they have fever or acute respiratory symptoms;
If they have come into close contact with a confirmed case of COVID-19.
We will be reducing entry points to the Women's in Parkville to three: the lower ground front entrance (via ramp), the Women's Emergency Care entrance on the lower ground floor and the corridor in between the Royal Melbourne Hospital and the Women's. The map is below.
The Women's car park lifts will take everyone to the Lower Ground floor for screening.
The Department of Health and Human Services has provided a new self-assessment tool to help you better understand the risks and precautions you need to take based on your personal circumstances. The Women's advises visitors to use this prior to visiting the hospital.
Please note: The Women's does not have a testing clinic for COVID-19. If you suspect you may have COVID-19, call the dedicated hotline on 1800 675 398 for advice.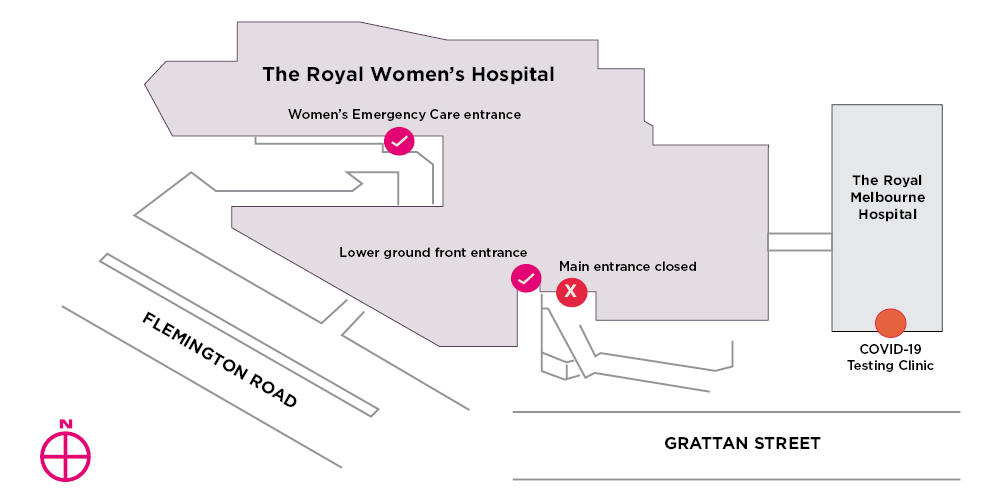 Visiting
To ensure the health and safety of you and your family – as well as our staff, the Women's has updated its hospital visitor policy for Parkville and Sandringham.
From midday on Friday 27 March, visitors will be restricted as follows:
Each adult in-patient and out-patient can have ONE person – either a partner or support person - present during their stay, with no time limitation.
This will have to be the same person throughout the time of your stay at the Women's.
This includes women attending clinic appointments (including Frances Perry House and private suites on Level 2), women on our gynaecology ward and women who are an antenatal, postnatal or birth centre inpatient.
Strictly, we are allowing no additional visitors into the hospital at this time.
Neonatal Intensive Care Unit babies can have both parents (or guardians/foster carers) present during their stay with no time limitation.
Please note: all partners/support people will be screened at our hospital entrance and will not be admitted if they do not pass the screening requirements.
As many children in the community may be symptom free, children and young people under the age of 18 years will be not be allowed into the hospital.
For exceptional circumstances we encourage families to discuss their individual needs with staff. We know these restrictions can be challenging so we ask for your understanding during this time.
Food and flower deliveries
At this time, the Women's is not permitting deliveries of food or flowers for patients on its wards.
Delivery personnel attempting to make deliveries will not be able to access the hospital.
Visitors who adhere to our new visitor's policy will be able to bring in food and flowers to the patient they are visiting.
Childbirth Education
The Women's has cancelled its face-to-face childbirth education workshops until further notice. This includes all its education programs that normally run in Parkville and Sandringham, and at community centres in Brunswick, Fawkner, Kensington, North Melbourne and St Kilda.
People who were booked in for a childbirth education workshop and/or hospital tour will receive a notification (and refunds where applicable) via the booking platform Eventbrite.
We are working to produce an online resource so women and their partners/support people can access childbirth education. Information will be available on our dedicated Childbirth Education page when this resource is ready.
Women's Welcome Centre
The Women's Welcome Centre has closed as a public health precaution until further notice.
Staff at the Women's Welcome Centre are still available to take phone and email enquiries between 9am and 5pm, Monday-Friday.
Women's Welcome Centre contact details:
Email: WWCadmin@thewomens.org.au
Phone: (03) 8345 3037
Language Services
Interpreters will remain available to any patients that need them. This service will now take place over the phone.
More information on our Language Services can be found here.
Pastoral and Spiritual Care
The Sacred Space at the Royal Women's Hospital is currently closed. Pastoral and Spiritual Care services are still available for patients.
More information on our Pastoral and Spiritual Care can be found here.
Tips on reducing your risk
Where possible, stay at home.

Practice good hand hygiene – wash your hands regularly with soap and water for at least 20 seconds and dry with paper towel or a hand dryer. Alcohol based hand rub is an acceptable alternative.

Cover your nose and mouth with a tissue when coughing or sneezing or cough or sneeze into the crook of your elbow, and encourage others to do the same. Make sure you put the tissue into a bin and then wash your hands afterwards.

Avoid touching your eyes, nose and mouth with unclean hands.

Where possible, keep at least one metre away from people who have a respiratory illness and/or is coughing and sneezing.

Avoid shaking hands with others.
This is a rapidly changing situation, so please visit the Department of Health and Human Services website for regular updates.