Volunteer David is one of a kind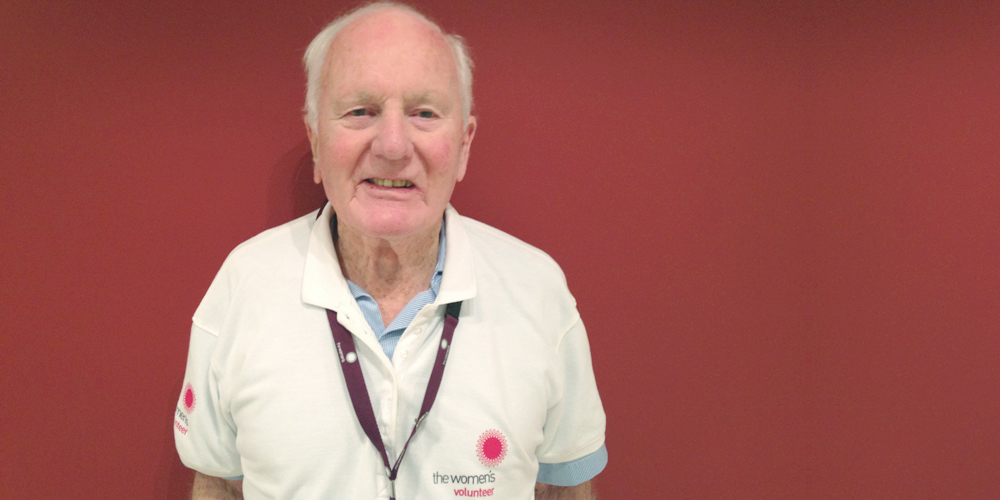 14 May 2014 |
At 87 David Cuming is one of Victoria's oldest volunteers. He also happens to be the only male volunteer working here at the Women's.
"I don't think it makes any difference," David says of being a male volunteer at a women's hospital. "You don't go upstairs where the women are having the difficult things being done; I just stay down here and do the paper work."
After retiring from a career in sales and servicing at various engineering companies, and subsequently being widowed 10 years ago, David took to volunteering as a means of keeping busy and doing something good for others.
"A few years ago a family friend, who was in charge of volunteers at the time, asked me to volunteer because she needed a hand," David says. "I was a volunteer at the old hospital for about a year and have been a volunteer at the new hospital a couple of years now.
"It gives me something to do. It's a good thing to do something for someone else."
David has two brothers, three daughters and four grandchildren who keep him social. "My three daughters are very good, they come over and bring a dinner sometimes," he says. "My social life is seeing them really."
So what's his key to staying active? "The dog takes me for a walk twice a day – that's probably the answer," David says. "I also do a bit of gardening and have a workshop full of machines that I fiddle around with when people need something fixed."
In light of National Volunteers Week (May 12-17), David emphasises the important role that volunteers play in the operation of hospitals and organisations in general.
"You'd have trouble running the show without them," he says.