We partner with Golf Victoria to promote women's health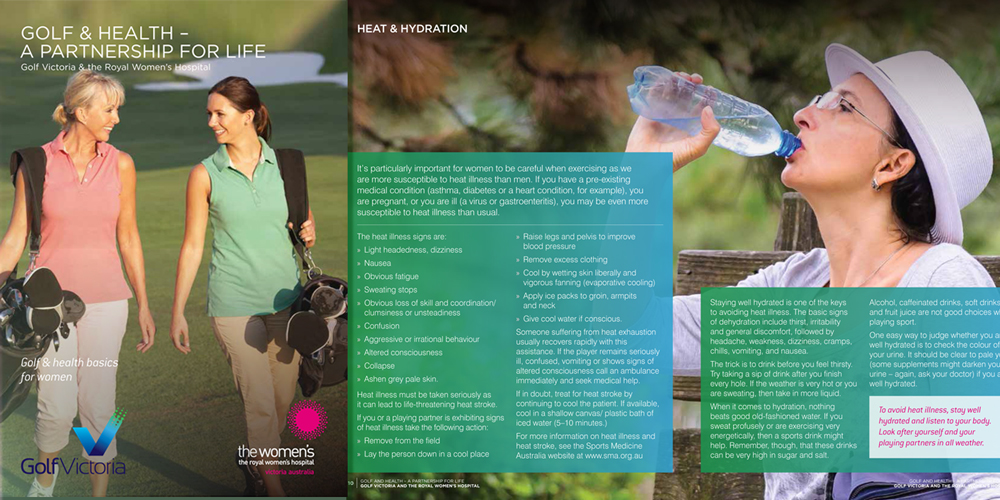 11 September 2014 | Fundraising
The Royal Women's Hospital and Golf Victoria will today launch a booklet to promote the partnership between women's golf and women's health.
Available to women golfers in Victoria the booklet is a tribute to the terrific partnership that has developed between the Women's and Golf Victoria over almost a decade. Back in 2005 Women's Golf Victoria (now known as Golf Victoria) selected the Women's as its charity partner to commemorate its 100th anniversary. That perfect partnership continues to thrive today and has helped to raise more than $180,000 for the Women's.
The fundraising initiative has been enthusiastically supported by Victorian women golfers through a state wide annual 'Royal Women's Hospital Four Ball Best Ball (4BBB) Stableford Competition'. In addition to the state wide competition, a group of volunteers decided to raise additional funds for the Women's by running a charity golf day in Melbourne, supported by a variety of sponsors and metropolitan clubs.
Now Golf Victoria embraces and supports this fundraising activity.
Thanks to the efforts of the women golfers of Victoria, urogynaecology training has been provided to ensure more women are able to access specialist care for conditions associated with pelvic floor dysfunction and, last year, the Women's was able to purchase a urodynamics system that will allow clinical researchers to develop new treatment methods.
"The final of the 4BBB Competition will be held today so it is fitting we also launch Golf & Health – A Partnership for Life," said CEO of the Women's Dr Sue Matthews.
"We would also like thank Golf Victoria – and all the women golfers who have participated – for their ongoing support and generosity."
Dr Matthews said the 20-page booklet provided a combination of golf tips for women alongside health tips from a trusted source, the Women's Health Book.
"It covers how to get started with golf and talks about pelvic floor muscles," Dr Matthews said. "There are health checks for women of all ages and tips on what women need to play the sport. We have it covered.
"Golf is a great sport for women (and men) because it keeps you fit and active emotionally and physically. It is just a great sport for all ages and at the Women's we have been very happy to play a role in helping to promote golf to women."