Infectious diseases research - 2019 highlights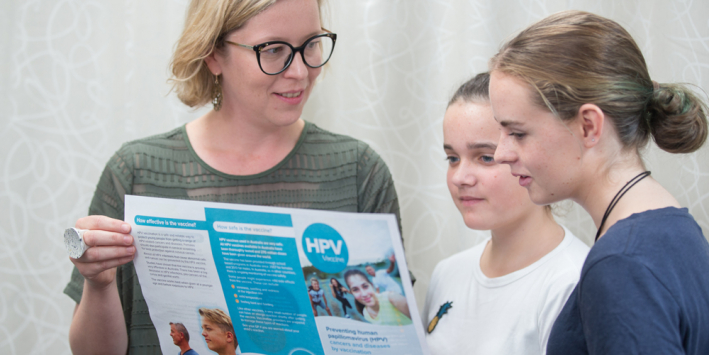 Research shows new cervical screening test is more effective
Lead researcher: Dr Dorothy Machalek
The National Cervical Screening Program was overhauled at the end of 2017, when Pap testing which looks for potentially cancerous cell changes on the cervix, was replaced with testing for human papillomavirus or HPV, the virus that causes these changes.
An award-winning study led by researchers from the Women's has shown that the shift in screening tests is resulting in earlier detection of potentially cancer causing HPV infections.
Working with a diagnostic pathology laboratory in Sydney and University of Melbourne researchers, Dr Dorothy Machalek led the review of 195,600 samples submitted for testing during the first six months of the Cervical Screening Program. The study looked at key program outcomes, including HPV DNA test positivity and management recommendations in the new program.
"While the Pap test used to look for cell changes in the cervix, the new Cervical Screening Test looks for HPV – the virus that causes these changes – which can develop into cervical cancer," said Dr Machalek.
The study found that 91.9 per cent of women having their first HPV-based screening tested negative for HPV, meaning they did not need to be tested for another five years. Of the 8.1 per cent who tested positive for HPV, 5.4 per cent were recommended for repeat testing after 12-months, allowing monitoring by the healthcare provider. The remaining women (2.6 per cent) were referred directly for a colposcopy because their risk of having underlying high-grade disease was higher. This was more than three times as many referrals than those based on Pap testing, because the HPV test is more sensitive.
"The HPV test is more effective than the Pap test at detecting underlying high-grade disease and cancer, and in the longer term the new program is expected to lead to reductions in the incidence and mortality from cervical cancer," Dr Machalek said.
"The community can feel reassured that Australia has a world class cervical cancer screening program that is based on up-to-date scientific evidence and best practice."
The study received the prestigious MJA/MDA National Prize for Excellence in Medical Research, awarded to the best research article published in the Medical Journal of Australia in 2019.

Technology facilitated sexual violence is common
Lead researchers: Professor Suzanne Garland AO, medical student Jordan Crawford and Professor John Wark
Technology-facilitated sexual violence (TFSV) has emerged as a key aspect of dating violence and violence against women.
TFSV includes a wide range of behaviours where digital technologies – including social media and online dating apps – are used to facilitate sexual harm towards others, particularly towards young women.
"Dating violence, and the emergence of TFSV, are negatively impacting women in Australia. However, at present there is a lack of empirical evidence, consistent measures or validated scales used for the measurement of TFSV," Lead Researcher Professor Suzanne Garland said.
"This means that the burden of technology-facilitated sexual violence in young women is likely under-reported."
As a sub-study of the Young Female Health Initiative (YFHI) Study – a collaboration with the Women's and the Royal Melbourne Hospital – 300 Victorian women aged 19 to 32 were surveyed about different negative behaviours from intimate partners online in the preceding 12 months. Respondents were also asked whether they reported these behaviours.
The study showed almost one-third of the women experienced TFSV in their intimate relationship in the preceding 12 months. These women were also more likely to experience offline forms of intimate partner violence. Most young women said they had not reported or discussed their experiences.
Professor Kelsey Hegarty, Director of the Centre for Family Violence Prevention who advised on the study, said more research was needed into forms of dating violence.
"Our results also highlight the need for education programs to support health practitioners to ask about abuse and violence, including through the use of technology," she said.