Cancer research - 2019 highlights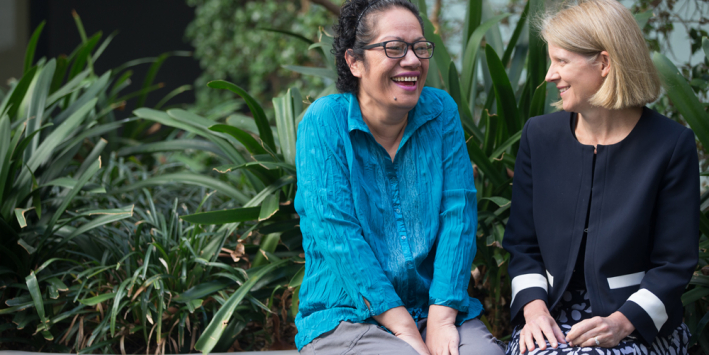 On the path to eliminating cervical cancer
Women's Lead researchers: Mr David Wrede and Dr Jeff Tan
By the end of 2019, more than 76,000 women had been recruited to Compass – the largest randomised clinical trial ever seen in Australia.
Compass is comparing 2.5-yearly cytology-based cervical screening with 5-yearly human papillomavirus (HPV) screening in Australian women aged 25-69. In a world first, the trial is also comparing screening in women who have been vaccinated against HPV and those who haven't.
The Women's is a leading contributor to this multicentre trial led by Professor Karen Canfell and Associate Professor Marion Saville from Cancer Council NSW and VCS Foundation, respectively.
Associate Investigator Mr David Wrede said the 2017 pilot study involving 5000 Victorian women had proven ground-breaking.
"It showed a tenfold increase in detection rate for high-grade precancerous cells in HPV-screened women compared to cytology-screened women," Mr Wrede said. "
This larger study will provide definitive population based evidence on the effectiveness of the HPV screening test to detect cervical cancer and will also enable us to assess a population of women with high uptake of HPV vaccination."
Compass trial participants will be followed up for five years from the time of recruitment, with cervical cancer detection the primary outcome. The results will help further inform the National Cervical Screening Program, which replaced traditional Pap smear tests with primary HPV testing for cervical screening at the end of 2017.
In 2018, the World Health Organization (WHO) announced a global call to action towards the elimination of cervical cancer, underscoring renewed political will to make elimination a reality. WHO will develop a global strategy to put to the World Health Assembly for approval in 2020.
"Australia is leading the world with its national HPV vaccination program and Compass will provide unequivocal evidence about the best test for screening as we work towards the goal of effectively eliminating cervical cancer," Mr Wrede said.

New immunotherapy for ovarian cancer patients
Lead researcher: Professor Clare Scott
Comparing the effectiveness of three combinations of ovarian cancer treatment will hopefully shed light on the potential of immunotherapy for patients fighting relapse.
The SOLACE2 trial is recruiting 114 women from across Australia whose ovarian cancer has returned. Lead Researcher Professor Clare Scott said once blood markers start to rise in patients – indicating relapse – observation was the usual path taken.
"This trial has been designed to specifically tease out how to harness the immune system and make it work better to kill the ovarian cancer cells – all before a second round of chemotherapy is required," she said.
"This is a powerful option for a woman, because it provides a treatment when the ovarian cancer begins to relapse for the first time, while she is still well and best able to respond to immunotherapy-based treatment."
SOLACE2 is comparing the PARP inhibitor tablet, olaparib, given by itself; or olaparib alone, then given with an immunotherapy antibody (durvalumab); or olaparib given first with low dose cyclophosphamide chemotherapy, then with durvalumab.
Ovarian cancer continues to be one of the most difficult cancers to diagnose and treat. In 2019, 1510 women were diagnosed with ovarian cancer in Australia. The five year survival rate is 45.7%.
"Treatment of women in the SOLACE2 trial has been well tolerated. Through special trial blood tests we are able to assess the immune cells and study the way the immune system is triggered by these combination treatments to respond to the individual cancers," Professor Scott said.
"This trial is a great opportunity for our patients because they are being offered this PARPi-based immune treatment, which they can't otherwise access, at the first sign of relapse."