Gynaecology research - 2019 highlights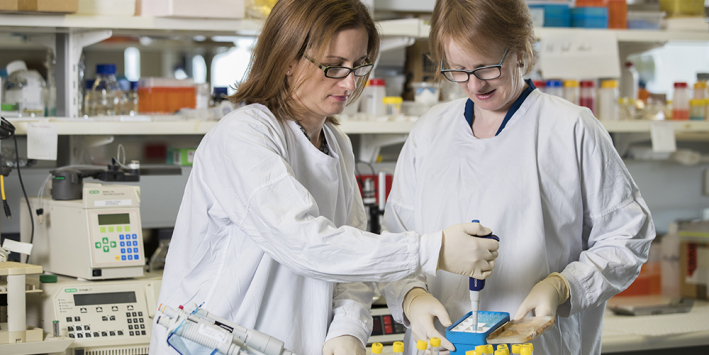 A new approach to predict IVF outcomes
Lead researchers: Dr Wei Zhou and Professor Eva Dimitriadis
Failure of embryo implantation is a significant issue for IVF treatment. It has been estimated that nearly 70 per cent of embryos fail to implant during IVF treatment.
Embryo implantation requires a receptive endometrium (lining of the uterus) so it can attach and invade into the uterus to establish a healthy pregnancy.
"Recent studies have suggested that IVF cultured embryos that failed implantation may secrete a distinct profile of factors that impairs the functional competency of the endometrium," said Dr Wei Zhou, one of the Lead Researchers looking into endometrial receptivity to try and improve the efficiency of IVF treatment.
"We set out to look at gene regulation in the endometrium, to discover what genes and proteins may affect embryo implantation."
The research compared cells from the endometrium that had been incubated in media from embryos that implanted versus non-implanted. It found that specific long non-protein coding RNAs were altered in the human endometrial cells after incubating with embryo culture media with failed implantation outcome.
"These changed long non-protein coding RNAs negatively affect the expression of other important factors such as small non-protein coding RNAs and proteins – and eventually affect the endometrial preparation for an embryo to implant," Dr Zhou said.
Professor Eva Dimitriadis, also a Lead Researcher, said the data suggested that embryo-derived factors were able to change the endometrial function.
"Such findings bring us closer to a molecular understanding of the regulation of receptive endometrium with potential implications of using embryo culture media to predict the IVF outcomes," she said.
Conversations 'essential' when it comes to young cancer patients' fertility
Lead researchers: Dr Yasmin Jayasinghe, Dr Sadunee Jayasuriya, Lara McDonald
A longitudinal study of child and adolescent cancer patients and their families is showing the importance of fertility counselling ahead of cancer treatment – which can cause irreversible damage to fertility.
The first-of-its-kind study revealed that well-timed and meaningful discussions led to lower levels of regret and higher levels of satisfaction in families who made a decision to pursue or forego fertility preservation.
Lead Researcher, Dr Yasmin Jayasinghe said with more than 80 per cent of paediatric and adolescent cancer patients surviving into adulthood, their future fertility needs to be seen as an important quality-of-life issue.
"Having a family in the future isn't something many of our child or teenage patients have given thought to but we know becomes very important later on. We can extract and freeze eggs or sperm or reproductive tissue for future use, before cancer treatment begins," she said.
"Fertility preservation measures are standard in adults but investigational in children, and only offered with careful checks and balances. Parents play a big role in the decision-making and, irrespective of the outcome, timely fertility counselling to discuss options and expectations about parenthood is a valued component of their care."
A total of 175 families are being followed over time – the first study in the world to examine decision regret in both patients and their parents concurrently. Overall levels of regret in the study population are low, with factors associated with quality, timely discussion, access to fertility preservation procedures and coordinated care being predictors of low regret.
"It's important that we listen to patients and are able to adapt to their needs, especially when it comes to these relatively new procedures. This means providing good governance around how fertility preservation care is provided," Dr Jayasinghe said.
The Women's and The Royal Children's Hospital, who jointly led the study, have both appointed oncofertility co-ordinators and implemented tools and guidance to help clinicians have these conversations in the right way, at the right time.