Newborn research - 2019 highlights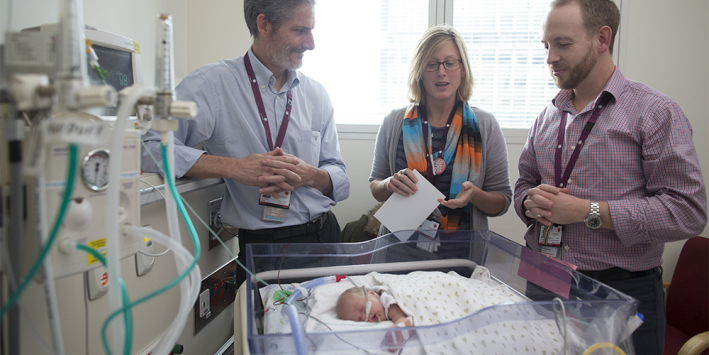 Preterm babies breathing easier closer to home
Lead researchers: Dr Brett Manley, Dr Louise Owen and Professor Peter Davis
Babies born at 31 weeks' gestation or later could be breathing easier closer to home, thanks to a study that highlighted the most effective methods of respiratory support available in non-tertiary hospitals. Led by the Women's, the HUNTER trial involved more than 750 preterm babies in special care nurseries at nine non-tertiary hospitals across Victoria and New South Wales.
The use of 'nasal high-flow therapy' – a gentle breathing support where small prongs are placed in the baby's nose and attached to their cheeks – was assessed as a first-line treatment for babies in their first 24 hours of life. The more well-established breathing support of nasal Continuous Positive Airway Pressure (CPAP) uses larger prongs fitted into the baby's nose, and tubing strapped to a special hat that the baby must wear.
In cases where treatment with high-flow was unsuccessful during the first 24 hours, babies were changed to the standard CPAP treatment.
One of the Lead Researchers, Dr Brett Manley said comparing the two breathing supports as first-line treatments had highlighted how clinicians could optimise care for babies in non-tertiary hospitals.
"While the HUNTER trial showed that CPAP was still the better respiratory support for some newborn infants, in about 80 per cent of babies high-flow worked well and they didn't need any other breathing intervention," he said.
"In the babies that had to move onto CPAP after starting with high-flow, their outcomes were the same as if they'd been on CPAP from the beginning, so we now know that there is the option to start some babies on the more gentle breathing support if hospitals wish to do so."
Dr Louise Owen, another Lead Researcher said as well as being more comfortable for babies, nasal high-flow is much easier for health professionals to apply and maintain. The research was published in the prestigious New England Journal of Medicine, and will help inform Victorian guidelines for how to provide respiratory support to newborn infants in non-tertiary hospitals.
Risk of heart disease later in life for premature babies
Lead researcher: Dr Anjali Haikerwal
A study led by researchers at the Women's shows that young adults born extremely premature are susceptible to high blood pressure, putting them at higher risk of heart disease in later life.
More than 200 adults born in 1991 and 1992 have been tracked throughout their lives as part of the Victorian Infant Collaborative Study. When recruited soon after birth, they were either born at less than 28 weeks' gestation, had a birthweight under 1000 grams, or were full term and normal birthweight (>2499 grams).
Now aged in their twenties, study participants who were born extremely premature/extremely low birthweight were found to be almost twice as likely to have high blood pressure compared with those born at normal birthweight. Importantly, the difference in blood pressure between extremely premature/extremely low birth weight and full term participants was greater at 25years compared with the difference at 18 years.
Lead Researcher Dr Anjali Haikerwal said this is an important insight into people born pre-term, particularly the approximately 300 babies born in Victoria before 28 weeks' or below 1000 grams who survive every year.
"High blood pressure is the leading contributor to the global burden of heart disease. The findings of this study have important clinical implications for health professionals, the families of premature babies, and for the individuals born pre-term themselves as they enter adulthood," said Dr Haikerwal.
"High blood pressure is something that can be managed if it is detected in a timely manner. Health check-ups for adults born premature should include blood pressure measurements and healthy lifestyle guidance."
Dr Haikerwal said thanks to significant steps forward in newborn medicine and technology, survival rates of pre-term babies in Victoria had gone from 10 percent in the 1970s to 75 per cent in the late 1990s. As a consequence more extremely preterm/extremely low birth weight infants are reaching adulthood.
"It is increasingly important to understand the long term health outcomes into adulthood in this rapidly growing at-risk population."