Map, transport & parking at Sandringham
The Women's at Sandringham location:
193 Bluff Road Sandringham (Melway reference 76 K12).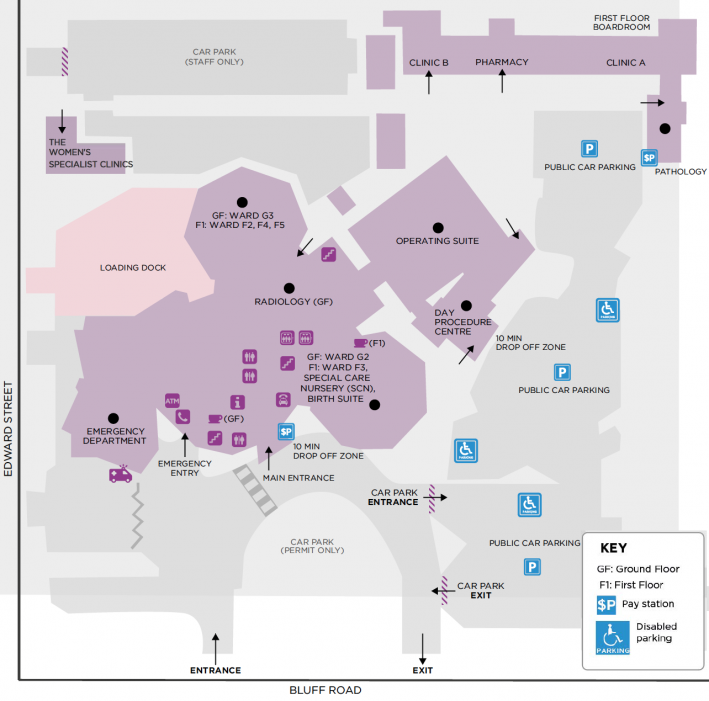 Accessibility
Wheelchair access is available at the hospital's main entrance.
Buses
Link route 600 and the Moorabbin Transit bus route 825 pass the hospital.
Trains
The nearest train station is Sandringham Station. From the station catch the 600 bus to the hospital.
For further information about train, tram and bus information, and timetables call 1800 800 007 or visit the Public Transport Victoria website.
Taxis
You can order a taxi using the free taxi phone near the Emergency Department entrance or in the Consulting Clinic. Please let the taxi company know if you are at the Consulting Clinic Reception, Main Reception or in the Emergency Department.
Visitor car parking
The main entrance and the Emergency Department entrance are both on Bluff Road and offer free 10 minute only zones for patient drop-off and pick-up.
The main car park is through the main entrance in Bluff Road. It is open 24 hours a day 7 days a week. Car parking fees are displayed at the entrance and you pay as you leave. Ticketed parking can be paid for at machines at the main hospital entrance and at the entrance to Outpatients. Some short term (30 minutes) street parking is available in front of the hospital. Check signs for restrictions.
Reserved parking is available for haemodialysis patients next to the Emergency Department. Designated disability parking is just inside the entrance to the main car park and in front of the consulting clinic.