Maternity Services at Sandringham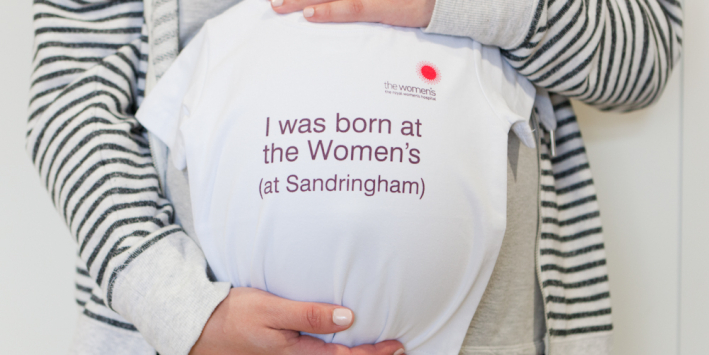 The Women's at Sandringham provides primary care for healthy women with uncomplicated pregnancies.
From 6 February 2023, the management of maternity, neonatal and gynaecology services at Sandringham Hospital will transition from the Women's to Monash Health.
There will be no change to these services and patients will not be affected. The team will remain in place and they will continue to provide the same high quality care as they do now.
Attending your first appointment
Before you attend, you will need to ask your GP for a maternity referral to Sandringham Hospital.
Your first visit will take place at the Pregnancy Booking Clinic at Sandringham with a midwife where you will be assessed for the following clinical pathways:
Midwife care
Doctors Care
Shared Care
More information about being a private patient at the Women's.
The visit will include an assessment of your health and your baby's health, and whether you are likely to have a straightforward pregnancy or whether you have more complex and diverse pregnancy needs. his is your opportunity to ask lots of questions. You will also be given information on the types of pregnancy care available to you.
Midwife Care
Clinic times:
Mondays 12.30pm-8pm
Tuesday and Thursday. 8.30am-4pm.
All maternity bookings appointments other than private patients attend this one hour appointment.
Antenatal pregnancy care is available for most women who have had uncomplicated births.
Doctors Care
Clinic times:
Mondays 1.30pm-4.30pm
Tuesday and Thursday 9am-4.30pm.
Low to Moderate risk women both Maternity and Gynae services available.
Gynaecology services available include minor procedures (such as IUD insertion) in Outpatient clinics.
Shared Maternity Care
Shared Maternity Care is a popular option. This means that during your pregnancy you can see your own GP or Obstetrician in the community who has been accredited to provide shared care with Sandringham for most of your pregnancy visits, with some visits at the hospital. Together, the hospital and your chosen community doctor will 'share your care'. The birth of your baby is at the Women's at Sandringham Hospital.
You may choose to stop Shared Care at any time during your pregnancy by contacting the Shared Care Clerk at Sandringham. If you develop problems during your pregnancy, Shared Care may not be suitable and your care will become hospital-based.
If your pregnancy is uncomplicated, you will typically have three key visits with a doctor: 20 weeks, 36 weeks and at 41weeks. You will have more visits with the doctor if required.
---