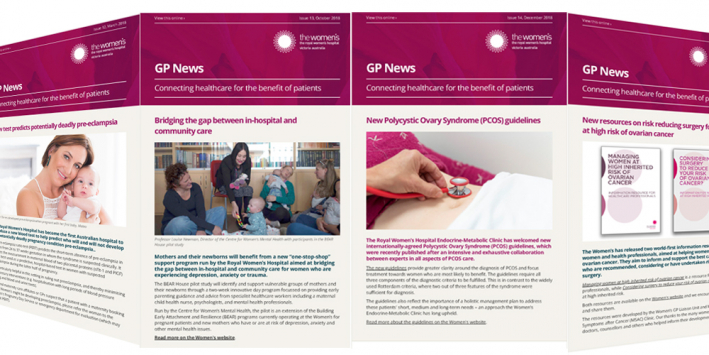 GP News is our electronic newsletter for General Practitioners and Shared Maternity Care Affiliates.
For quarterly updates about hospital initiatives and general health news, SUBSCRIBE ONLINE to GP News.
Continuing Professional Development
Forthcoming workshops and seminars.
---
GP Email Newsletter
Download previous GP Newsletters as a PDF
GP News, Issue 19 - May 2020
Articles in issue 19:
Thank you for partnering with us to provide high quality healthcare in these challenging times
Changes to services under COVID-19 restrictions
Women's Health and Gynaecology referrals
Women's Health elective surgery
Maternity referrals
Antenatal, labour and postnatal care
Other general precautions at the Women's
Are pregnant women considered an 'at risk' group for COVID-19?
Access to electronic medical records
Influenza vaccine reminder
Recent news
GP News, Issue 18 - January 2020
Articles in issue 18:
Advice for pregnant women around smoke haze
Measles immunity and vaccination
Shared Maternity Care (Guidelines update, Re-credentialing update)
Statewide Referral Criteria
Recent news
GP News, Issue 17 - October 2019
Articles in issue 17:
New resources on risk reducing surgery for women at high risk of ovarian cancer
Changes to Maternity Care Model and Shared Maternity Care
Changes to referral and acceptance process
Re-credential as a Shared Maternity Care Affiliate
Abortion, sexual and reproductive health services: Referral to 1800MyOptions
Upcoming events
GP News, Issue 16 - July 2019
Articles in issue 16:
Assisted Reproductive Treatment (ART) review paves way for equitable IVF access, says the Women's
Increasing participation in Shared Maternity Care
Recredentialing as shared maternity care affiliate
(Triennium 1, January 2020 – 31 December 2022)
African Women's Clinic
Influenza and Pertussis vaccination in pregnancy
Continuing professional development
GP News, Issue 15 - April 2019
Articles in issue 15:
Medical research grant (research relating to bacterial vaginosis)
Changes to maternity referrals
Flu vaccine in pregnancy
Continuing professional development
Research participation
GP News, Issue 14 - December 2018
Articles in issue 14:
New Polycystic Ovary Syndrome (PCOS) guidelines
Use of low dose aspirin in pregnancy
Sexual and reproductive health services
Maternity eHandbook
Survey for women on egg freezing
Newborn Observation (NBO) Training
GP News, Issue 13 - October 2018
Articles in issue 13:
Bridging the gap between in-hospital and community care
New referral templates
The Women's is moving to electronic discharge summaries on Argus
Professional development and resources
GP News, Issue 12 - June 2018
Articles in issue 12:
New test predicts potentially deadly pre-eclampsia
Access our GP continuing professional development online
Shared maternity guidelines feedback survey
Save the dates
Study participants required
GP News, Issue 11 - March 2018
Articles in issue 11:
Elimination of cervical cancer in sight (IPVS statement)
1800 My Options Sexual and Reproductive Health Information and Phoneline Service
Transvaginal Mesh Inquiry
Pregnancy Care, Shared Care Guidelines
New patient information pamphlets
Fundamentals in Obstetric Care workshop
Antenatal care for Aboriginal and Torres Strait Islander women
GP News, Issue 10 - December 2017
Articles in issue 10:
Study confirms young people welcome GPs raising issues of reproductive health with them
Maternity eHandbook
GPs are tops - ABS latest stats
Heavy Menstrual Bleeding Clinical Care Standard
Consulting rooms to rent?
GP News, Issue 9 - September 2017
Articles in issue 9:
First time mothers hesitant about childhood vaccination (new study)
Flu vaccination: the best protection for pregnant women
For your attention!

Referrals to the Women's
Sexual counselling clinic
Essure contraceptive device
Peer support for women diagnosed with cancer
The Endocrine and Metabolic Service at the Women's

Professional development

Perineal Trauma Masterclass
Pelvic Floor Symposium
Seminar on Pregnancy, Neonatal and Infant Issues
GP News, Issue 8 - June 2017
Articles in issue 8:
New Ambulatory Gynaecology Service
For your attention!

Pregnancy Record documentation in shared care
Opportunities for professional development

The importance of Fundal Height
Optimal Care Pathways for cancer
The Pregnancy Advisory Service
GP News, Issue 7 - March 2017
Articles in issue 7:
Focus on endometriosis in March
Continuing Professional Development
Update for urogynaecology referrals to the Royal Women's Hospital
Neonatal e-handbook updates
National Cervical Cancer Screening Program: revised start date 1 December 2017
The Victorian Infant Hearing Screening Program
GP News, Issue 6 - December 2016
Articles in issue 6:
Early help cuts high rates of depression in mothers of preterm babies
Shared maternity care reaccreditation; Reaccreditation for Shared Maternity Care Affiliate GPs and Obstetricians
Referral to the Women's Pregnancy Advisory Service
Seminar: Breast, gynaecological and prostate cancer management in primary health care
Neonatal ehandbook and new maternity ehandbook
Australia's mothers and babies 2014—in brief
GP News, Issue 5 - September 2016
Articles in issue 5:
Vaccinations during pregnancy
Seminar on Pregnancy, Neonatal and Infant Issues
Training in psychosexual medicine at the Women's
Perinatal data: birth outcomes
New Parkville cancer care model
Victorian Maternity and Newborn Clinical Network (VMNCN) newsletter
Shared Maternity Care Workshop 2016 fully booked
GP News, Issue 4 - July 2016
Articles in issue 4:
Strengthening Hospital Responses to Family Violence
Changes to women's health referral process

Change to named referral
Interpreter requirement

Well Women's Clinic closure
Relocation of day chemotherapy services to Peter Mac
Having your baby at the Women's
Multiple Pregnancy - CME Symposium
Contemporary Issues in Clinical Obstetrics: Multiple pregnancy
GP News, Issue 3 - April 2016
Articles in issue 3:
Assisting FGM/C affected women
Reaccreditation for Shared Maternity Care Affiliates: 2017-2019
Pregnancy Advisory Service (PAS)
Upcoming Workshops
Zika virus and pregnancy
The Women's Pregnancy and Breastfeeding Medicines Guide
Discharge summary is changing
GP News, Issue 2 - December 2015
Articles in Issue 2:
New model of postnatal-care at the Women's
Victorian Maternity Record
SMC Guidelines 2015 Competition winners
GP News, Issue 1 - September 2015
Articles in Issue 1:
New testing protocol for Gestational Diabetes at the Women's
Who to test early for diabetes with GTT or other screenings
Neonatal eHandbook - a free online resource
Reminder to give women hard copy test results to take to first pregnancy hospital appointment
Folic acid fortification issues: Chief Health Officer Advice
---
---