'A lot has changed, but not quickly enough'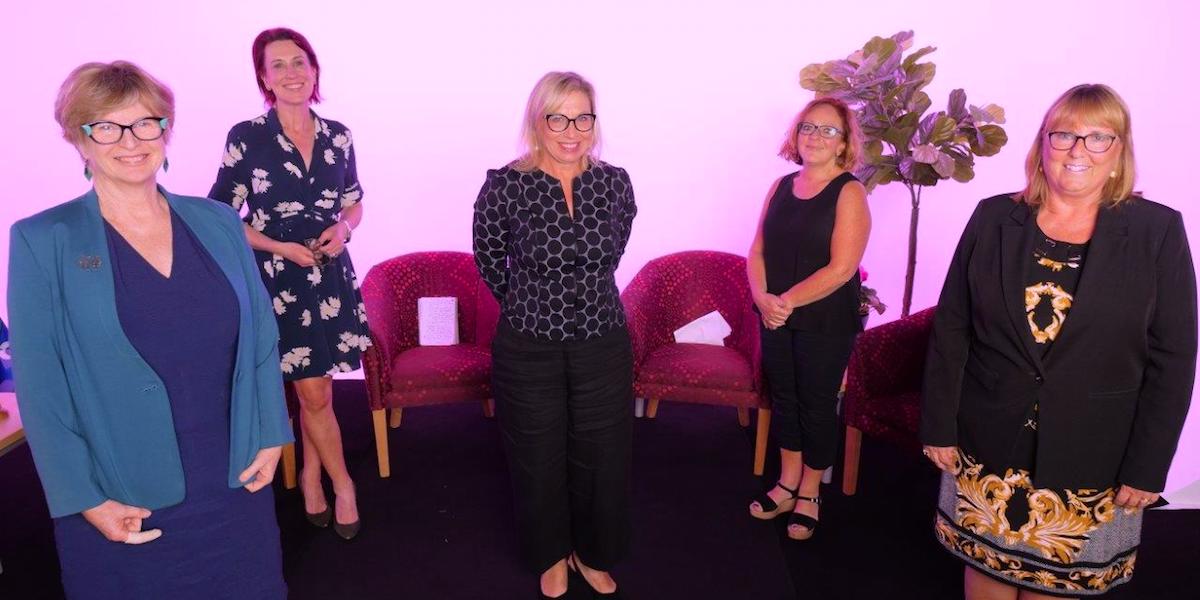 5 March 2021 | Events
Clinicians, advocates and pioneers from the Royal Women's Hospital came together this week to engage in a panel discussion on the future of women's health for International Women's Day.
Hosted by the ABC's Virginia Trioli, the panel comprised of Head of Abortion and Contraception Service Dr Paddy Moore, Board Director Rosie Batty AO, Head of Reproductive Services Associate Professor Kate Stern and Chief Executive Dr Sue Matthews.
Watched by hundreds online, the talk kicked off with the panel's reaction to the national conversation of this week: reports of alleged sexual assaults linked to government departments.
Virginia Trioli opened up the conversation reflecting on how difficult it is for many seeing the news this week, she said: "It has been a very challenging and hard week for all of us in Australia, particularly for those who have gone through or have any connection to family violence or sexual violence."
In her response, Dr Paddy Moore said the news parallels what fellow clinicians are hearing during patient appointments.
"In the Abortion and Contraception Service we see women who are facing crises in their lives. And sometimes the unplanned, unwanted pregnancy isn't the biggest crisis; they are fleeing family violence or it's a result of sexual assault," said Dr Moore.
"We've been reflecting just this morning on how easy it is to silence women, and how important it is that they have a safe place to be heard and their wishes are respected."
Rosie Batty added: "I think a lot has changed, but it's just not changing quickly enough. And if we look at what's playing out at the moment, women are still struggling to be believed, their [experience of] violence is still being minimised."
The importance of listening to women was also discussed in the context of patient care.
For Dr Sue Matthews, a powerful experience with a patient and her partner 30 years ago taught her how vital it is to acknowledge that everyone is on a different journey.
"I went into a patient's room and there was a man by her bed and it was 9.30 at night. In my nicest nurse voice I said to the man, 'excuse me, visiting hours are over and unfortunately you're going to have to leave'. This woman had had a [miscarriage] and in our eyes as clinicians, it's a very simple procedure. But the man stood up and looked at me with tears in his eyes and said, 'my wife and I have just spent seven years and $35,000 to obtain the dream that we just lost - and you're telling me I can't grieve with her?' That was my turning point," said Dr Matthews.
"That's when I knew I needed to take a leadership role and change the way we saw people and that we saw them as a whole person; who they are, what comes with them. And we saw the journey, not the event."
Associate Professor Kate Stern said care should consider everything that happens in a woman's life.
"[As clinicians] we have our assumptions especially when we are senior and have had lots of experience and we've got a box for everything. But what I'm loving about the Women's is the patient-centred care and making it more personalised."
When the conversation turned towards LGBTI+ communities and how healthcare can be improved for them, the theme of listening continued.
Associate Professor Kate Stern said: "I think what we think is important is probably not what the gender-diverse communities think is important. And we shouldn't look at one gender-diverse community and see one view - there's a wide variety of views.
"We have to make the hospital a safe place for everyone and everyone needs to feel welcome."
Dr Sue Matthews said the hospital needs to interact with LGBTI+ communities and be taught by them to shape the care they receive.
"It's not unlike the journey we've been on with our Aboriginal and Torres Strait Islander communities; understanding their needs, their differences, what's most important to them. We need to take the same steps and do a similar journey with the LGBTIQ communities."
Watch the opening to the panel discussion here: