An Australian first - Public egg and sperm bank open for donations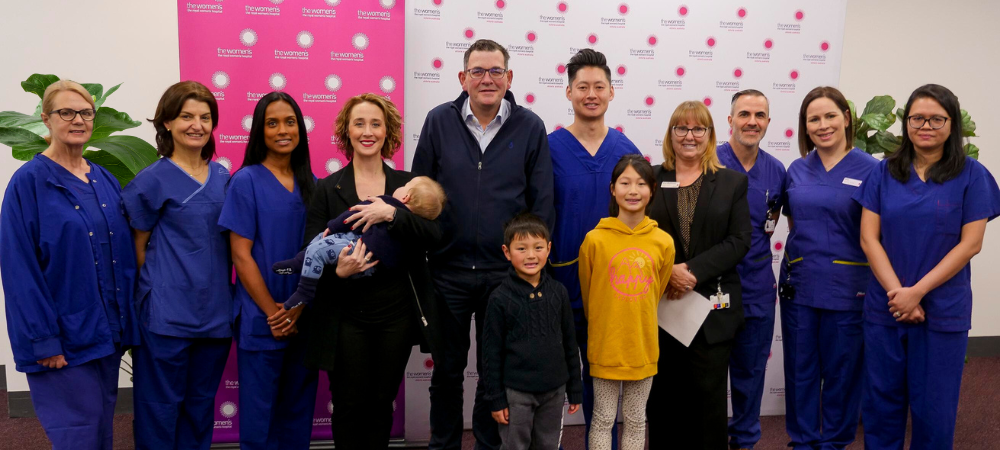 2 July 2023 | Fertility
The Women's is proud to have opened Australia's first public egg and sperm bank, which will help more Victorians achieve their dream of becoming parents.
Victorian Premier Daniel Andrews and Acting Health Minister Gabrielle Williams launched the bank at the Women's earlier today.
"Public IVF is already helping hundreds of Victorians make their dream of having a baby a reality," Premier Andrews said at the launch of the public egg and sperm bank.
"Helping someone start their family is one of the most generous gifts you could give someone, and our new public egg and sperm bank will help even more Victorians, do just that."
The Women's CEO, Professor Sue Matthews, said donated eggs and sperm can help people who, for many reasons, are unable to become parents.
"Sperm and egg donation can help a range of people, from women experiencing early menopause after cancer, to those who have experienced repeated miscarriages, same-sex couples and people who have serious genetic issues," Professor Matthews said.
"With the help of generous people who will come forward to donate their eggs or sperm, we'll be making it easier and fairer for people to realise their dream of starting a family."
Donations to the egg and sperm bank
Potential egg donors need to be Australian citizens aged between 23 and 38 years. Potential sperm donors need to be Australian citizens aged between 23 and 45 years at the time of commencing their donation. Under Victorian law, potential sperm donors cannot donate if they have a baby less than 12 months of age, are currently undertaking fertility treatment or if they have a partner who is currently pregnant.
All donors will need to attend counselling and undertake medical health questionnaires, screening tests and other medical and psychological enquiries.
In Victoria, egg and sperm donors cannot be paid for their donations and all donors must be prepared to have their identifying details registered with the Victorian Assisted Reproductive Treatment Authority and released to any person born as a result of their donation. Anonymous donation is not allowed in Australia.
For more information, visit the egg and sperm bank webpage.
Our wider Public Fertility Service
Establishing the egg and sperm bank at the Women's is the second important step in the Victorian Government's landmark $70 million initiative to establish a Public Fertility Service.
Last October, the Women's and Monash Health began providing the Public Fertility Service, which offers a range of services including IVF treatments, fertility consultations, diagnostic tests and procedures, ultrasounds, counselling, information and support.
While the egg and sperm bank is currently focused on recruiting donors, eligible Victorians seeking to access Victoria's public fertility service, including the use of donated eggs or sperm from the bank, can be referred by their GP or specialist. For more information, visit the Public Fertility Service webpage.
The Women's is partnering with health services in our catchment areas as well as the western, northern and north-eastern parts of Victoria, so people can receive fertility treatment closer to home.
The Women's has begun referring patients of the service to Northern Health's Epping Hospital and to Mildura Base Public Hospital if they live close to those areas. Additional partner sites will also be established in Ballarat, Bendigo, Geelong, Heidelberg, Shepperton, Sunshine and Warrnambool by the end of 2023.
The Women's has been a strong advocate for publicly-funded fertility services, to ensure lower income people have similar opportunities to become parents as those who can afford private IVF services. The Women's also have a proud history in pioneering IVF treatments, with Australia's first IVF baby, Candice Reed, born at the Women's in 1980.
Donating eggs or sperm is one of the most generous things you can do – find out more, visit www.thewomens.org.au/egg-sperm-donors