CEO calls on women to lift each other up this International Women's Day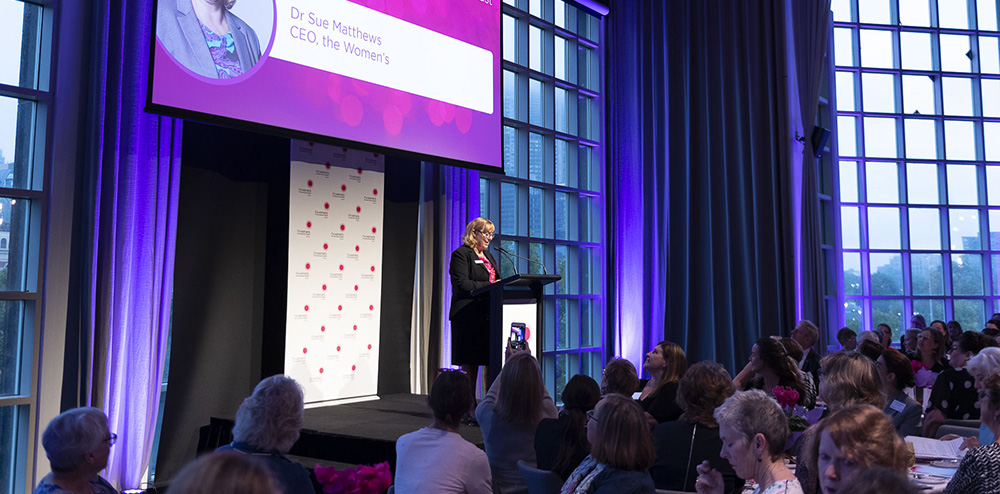 4 March 2020 |
The Royal Women's Hospital's Chief Executive Officer, Dr Sue Matthews, has highlighted the importance of giving women a voice and the hospital's role in advocating for vulnerable and marginalised women and girls in our health system.
The speech, which was delivered to an audience of business and health leaders at the annual International Women's Day Breakfast hosted by the Women's today [5 March], called on women to think about how they can help lift up women who might not have the support and empowerment that many enjoy.
The event itself raised thousands of dollars for the Royal Women's Hospital Foundation, with the total yet to be revealed. The Women's Board Chair, Lyn Swinburne AO, thanked BankVic for their sponsorship of the event and support of the Women's more broadly.
Dr Sue Matthews' International Women's Day speech is now publicly available, and additional anecdotes that she shared can be heard on the broadcast on Facebook and Twitter.
As we kick off recognition of International Women's Day this morning, as a collective, we will be thinking about what it means to be a woman in 2020.
And the truth is, that it means very different things to different people – and, it will change throughout a woman's life.
For some, being a woman means strength.
For others, resilience.
For me, it means progress! Seeing how far we have come, and continuing to level the playing field for women, while ensuring all women and girls have every opportunity open to them.
And it is strength, resilience and progress that I see when I look around this room today.
Our keynote speaker, Nicole Livingstone, embodies these sentiments.
AFLW, as a whole, is a great example of teams of women lifting each other up, being the best version of themselves and inspiring the next generation.
But not everyone is empowered and supported as a woman. We know this because at the Women's, it is, unfortunately, what we see every day.
We see that for some, being a woman means being vulnerable, marginalised and disadvantaged. The implications of this on a woman's health are many - and can even be life-threatening.
As a woman, I am more likely to be given anti-anxiety medication than painkillers for my ailments.
As a woman, my data is less likely to be included in medical research trials than a man's – so we often don't know how conditions or medications affect women.
As a woman, I am seven times more likely to be misdiagnosed and discharged in the middle of having a heart attack. Why? Because medical concepts of most diseases are based on male physiology.
As Australia's first and largest hospital dedicated to women's health, this disparity is something we are acutely aware of as we care for our patients.
Across our two complexes in Parkville and Sandringham around 4,500 baby girls are born every year. The majority come into the world and go home in a day or two, but some will be with us a lot longer. Either way, there's every chance we'll see them again as they progress through adolescence to young adulthood and beyond.
These baby girls will grow up and they might have severe period pain or bleeding, need contraception, contract an STI, need an abortion. They might have endometriosis, have babies of their own, be diagnosed with cancer, or have difficult menopausal symptoms.
And then there are factors that will make these experiences much harder: there will be women who can't conceive naturally, there will be women with disability. There will be women in rural, remote and regional areas that simply can't access the care they need. There will be women experiencing family violence, women who are homeless and women battling drug and alcohol addiction. There will be people from the LGBTIQ+ community – with their own specific needs. And, there will be Aboriginal women, whose life expectancy is eight years less than that of non-indigenous women.
Many of these experiences and factors are relatively common in any woman or girl's life – some are less so.
But undeniably, all people need access to the right care at any given point in their lives. They will need healthcare professionals to listen, to understand, and care for them, without judgement or discrimination.
And yet, there are hurdles - sometimes mountainous hurdles - which many have to navigate in order to access the right care. And sometimes, despite the most intrepid navigation, women are still unable to find this care.
I don't need to convince anyone in this room that this is unjust. It is unjust, and it is unacceptable. And as leaders in women's healthcare, the Women's plays an important role in advocating for women who face barriers when trying to get the care they need, when and where they need it.
Just last week we raised our voice. We saw that the second draft of the Religious Discrimination Bill has the potential to restrict access to abortion and contraceptive care. You might have seen in the news that we joined an alliance of 15 health organisations in Victoria to raise our concerns to the highest levels of Federal Government.
We were the only hospital to join this alliance, and the only one to advocate specifically for women and girls on this issue.
I can't promise that all of our advocacy work will be in the public spotlight, but I can promise that we will continue to be bold in trying to bring down barriers to care.
I can promise that we will continue to be a voice for women who are marginalised and vulnerable, and we will continue to advocate for new and expanded women's health services – no matter how polarising they may be.
We will continue to focus our research on women and newborns.
And of course, we will continue to care for tens of thousands of women and newborns every single year.
On International Women's Day this Sunday, I encourage you all to think deeply about what it means to you to be a woman in 2020 - and how you can help lift up women who might not have the supports that we enjoy.
And now, it gives me great pleasure to introduce our keynote speaker.
She is a phenomenal role model, in so many ways.
After sadly losing her mother and aunt to ovarian cancer, Nicole Livingstone and her sister Karen co-founded Ovarian Cancer Australia to support and advocate for Australians affected by this cruel disease.
You will all know of Nicole's international sporting career, her multiple Olympic and Commonwealth Games medals, and her work inspiring the next generation of female athletes.
And now, as CEO of AFLW, she's leading the surge in this sport across the country.
Without further ado, ladies and gentlemen – please welcome our keynote speaker: Nicole Livingstone.