Climate care in focus for Tracy Maund Oration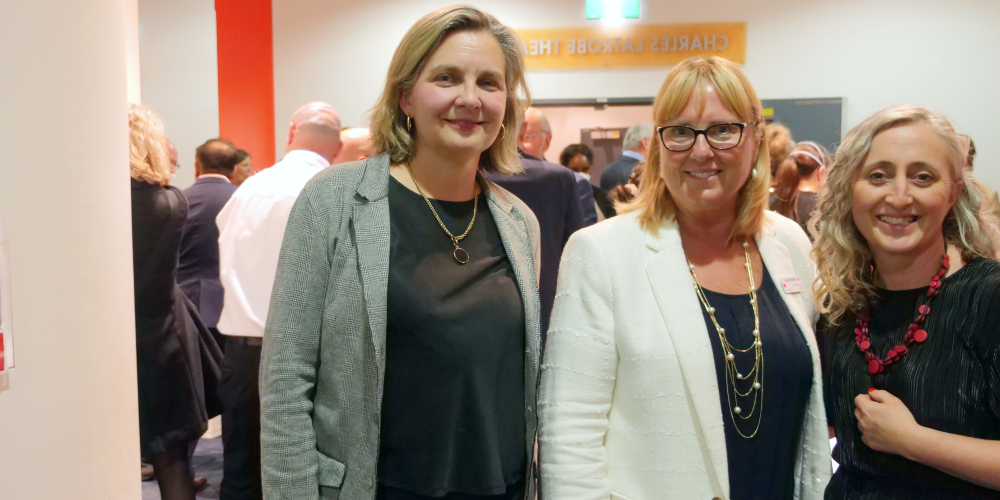 17 October 2022 | Events | Sustainability
The annual Tracy Maund Oration has returned as an in-person event at the Royal Women's Hospital, with the spotlight this year on healthcare and 'climate care.'
Keynote speaker Professor Eugenie Kayak, Enterprise Professor in Sustainable Healthcare at the University of Melbourne, focused on environmental sustainability in the healthcare sector in her oration delivered last Wednesday.

Professor Kayak is on a mission to reduce healthcare-related carbon emissions by 80 per cent over the next eight years. Her oration, Health Care and Climate Care: no laughing matter, spoke to how the healthcare sector can reduce carbon emissions through shifts in policy, procurement, culture, and governance.
"Climate change is a health issue, so we have agency. We have a proud history of influencing public policy when it impacts on public health. Just think tobacco control, helmets, drink driving," Professor Kayak said.

"As a sector we can be influential and create and instigate change, and we can educate not just ourselves and medical students, but the public and policy makers about what needs to happen. We need to be part of the solution and get our own house in order.

"We can follow existing roadmaps, which look into decarbonising healthcare operations and decarbonising supply chains, as well as reducing healthcare demands and looking into sustainable models of care.
"Studies have found that carbon can be reduced through re-useable anaesthetic equipment, the reprograming of sterilising machines, lessening the use of nitrous oxide, and other methods."
Professor Kayak was hosted by Dr Vicki Carson, an obstetrician and Chair of the Women's Senior Medical Staff Association. The Tracy Maund Oration event is held in honour of our hospital's founders – Richard Tracy and John Maund.
The Women's has recently announced its commitment to achieve net zero greenhouse gas emissions by 2030, as set out in our Environmental Management Plan 2022-2027.
To find out more about our environmental commitments: The Women's announces bold new sustainability target.