Cornelia Program recognised as child protection champion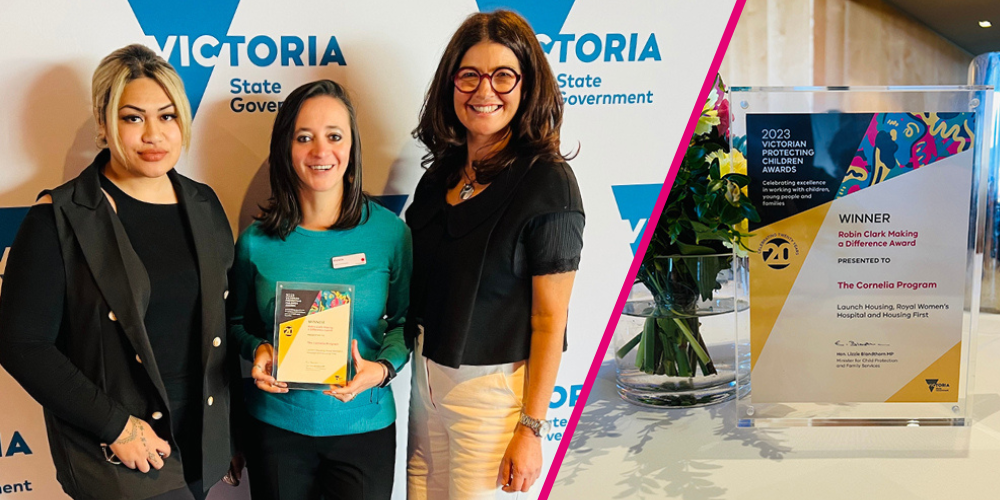 6 September 2023 | Family violence | Your impact
Congratulations to the Cornelia Program, joint winner in the 2023 Victorian Protecting Children Awards. A collaboration between the Royal Women's Hospital, HousingFirst and Launch Housing, the program has been recognised for providing a pathway out of homelessness for pregnant women and their babies.
Yesterday, the Victorian Department of Families, Fairness and Housing celebrated all those who show excellence in working with children, young people and families. The Cornelia team, together with the Gippsland Anglicare Victoria Multisystemic Therapy Team, won the Robin Clark Making a Difference Award.
Sally Coutts, Cornelia Program Manager at the Women's, says she is proud to receive this award. "It is a team effort, and we value the collaborative efforts of the partnership in supporting women and babies," Sally says.
"Cornelia helps provide a consistent and protective environment for mums and their infants. We have seen how the program has helped many women to be great parents and would like to acknowledge their strength in achieving this."
It is a notion shared by Giovanna Savini​, Chief Resident Services Officer at HousingFirst. "We work in this sector because we want to make a difference to others' lives," says Giovanna. "It is wonderful that our team has received this accolade for the positive impact they have had on the many mothers and babies of the Cornelia Program."
The Cornelia Program aims to break the cycle of insecure housing for vulnerable women and their babies. It is the first such collaboration in Australia between a hospital, a housing provider and a homelessness service that focuses on this cohort of at-risk women.
Launched in 2022, the program provides safe and secure homes for up to 12 months to vulnerable women and their babies. Women can access specialist maternity, post-natal and other healthcare. They also get help with accessing financial support and, when the time is right, stable long-term housing.
The Cornelia Program was made possible through generous donations, including from Professor John McBain and Dr Penelope Foster, and a substantial Victorian Government investment. Thank you to everyone who is helping us support vulnerable mothers and their babies!