COVID-19 simulations give hospital staff valuable experience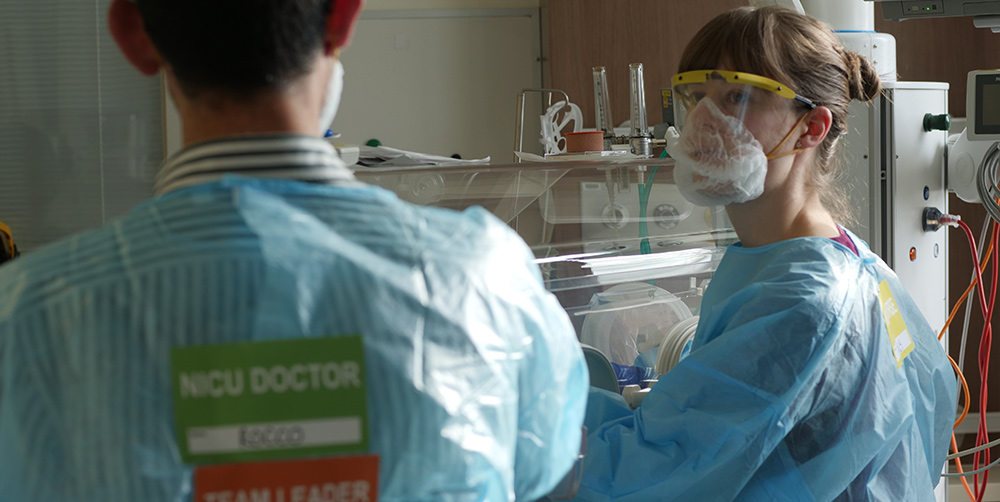 15 June 2020 | Pregnancy
In-situ simulations at the Royal Women's Hospital are giving doctors, nurses and midwives a unique opportunity to learn how to care for patients who have a suspected or confirmed case of COVID-19.
The Women's Gandel Simulation Service is running simulated clinical scenarios, which feature a "COVID-positive woman" being cared for in the Women's Birth Centre and a "COVID-positive baby" in the Neonatal Intensive Care Unit. Scenarios have also been running in the Women's operating theatres.
A Melbourne hospital is leading the way with world first training designed to protect staff and patients in the pregnancy ward. The medical teams are put through their paces during a critical response to a COVID-19 emergency. https://t.co/5zYfOfohG3 @GeorgiaComensol #7NEWS pic.twitter.com/kO0eR3xDRQ

— 7NEWS Melbourne (@7NewsMelbourne) June 13, 2020
The COVID-19 simulation program started in March this year to help healthcare workers at the Women's design 'patient pathways' for suspected and confirmed coronavirus cases. This ensures patient care continues to be safe and effective at all times and healthcare workers feel confident adopting all necessary precautions and using personal protective equipment in acute care settings.
The Gandel Simulation Service is led by Dr Bec Szabo at the Women's in partnership with The University of Melbourne.
"While all doctors, nurses and midwives will have been trained on how to manage care of those with infectious diseases, many will thankfully not have worked during a pandemic. These simulations give staff the experience of managing a simulated patient in the real environment with a real team – not just watching a video or reading a guideline," said Dr Szabo.
"We're able to practice putting the appropriate personal protective equipment on under pressure and see how we have to adapt our normal processes and communication for COVID-positive patients – making sure everyone, including staff, is kept safe."
Birth Centre Manager Sophie Cameron said that while the Women's hasn't seen a patient that has tested positive for COVID-19, it has had suspected cases which means all the COVID-19 precautions are still put in place.
"It's very important that we are fully prepared, as staff, for COVID-19 cases, so the simulations have been very well received by everyone in the team," said Sophie.
"Practising how we deliver care to COVID-positive patients ensures we are mentally prepared, and we know how the processes works in-situ – it also means that midwives, nurses and doctors – hands-on staff - have been part of designing new and better hospital processes.
"If we do have to provide care for a woman or baby that has COVID-19, it's important that they have an excellent experience with us and receive the high quality care that everyone is entitled to."
Related information
Notes to editors
Gandel Simulation Service in partnership with University of Melbourne is a translational in situ simulation service established at the Royal Women's Hospital in 2019 with four years' worth of funding - $2.4million - from Gandel Philanthropy and University of Melbourne Medical School.
---
Download media packages
---