DAME study wins Victorian Public Healthcare Award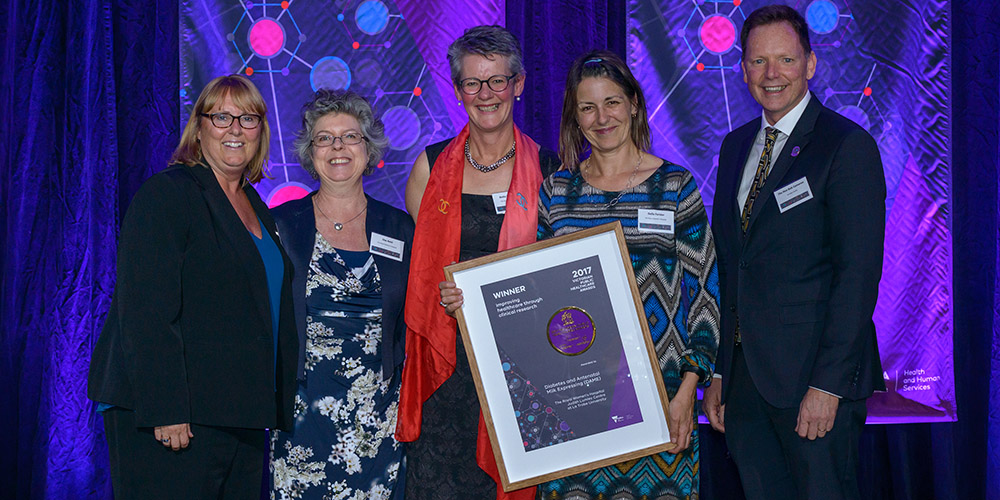 27 October 2017 | Research and clinical trials
Ground-breaking research led by a team from Judith Lumley Centre at La Trobe University and the Royal Women's Hospital has won a Victorian Public Healthcare Award.
The Diabetes and Antenatal Milk Expressing (DAME) study, led by Professor Della Forster, head of the Women's Midwifery and Maternity Services Research Unit, won the Improving healthcare through clinical research award at the prestigious annual event, held on Thursday 26 October.
The DAME study, published in The Lancet in June, found that women with diabetes in a low-risk pregnancy can safely express breast milk in late pregnancy without causing any harm to babies. Read more about DAME in our news section.
The prestigious Victorian Public Healthcare Awards celebrate examples of excellence, dedication and innovation in public health care that are improving health outcomes for the Victorian community.
After accepting the award, Prof Forster said "We are really thrilled that our work has been recognised in this award. Our focus is always on making sure we can provide the best possible care to women and their babies, and the DAME study has provided important evidence to guide practice for clinicians looking after women with diabetes in pregnancy."
The Managing Menopausal Symptoms after Cancer (MSAC) program was also a finalist in the Excellence in women's health category.
Congratulations to our winners and finalists.