10 years a stroke survivor, one year a mum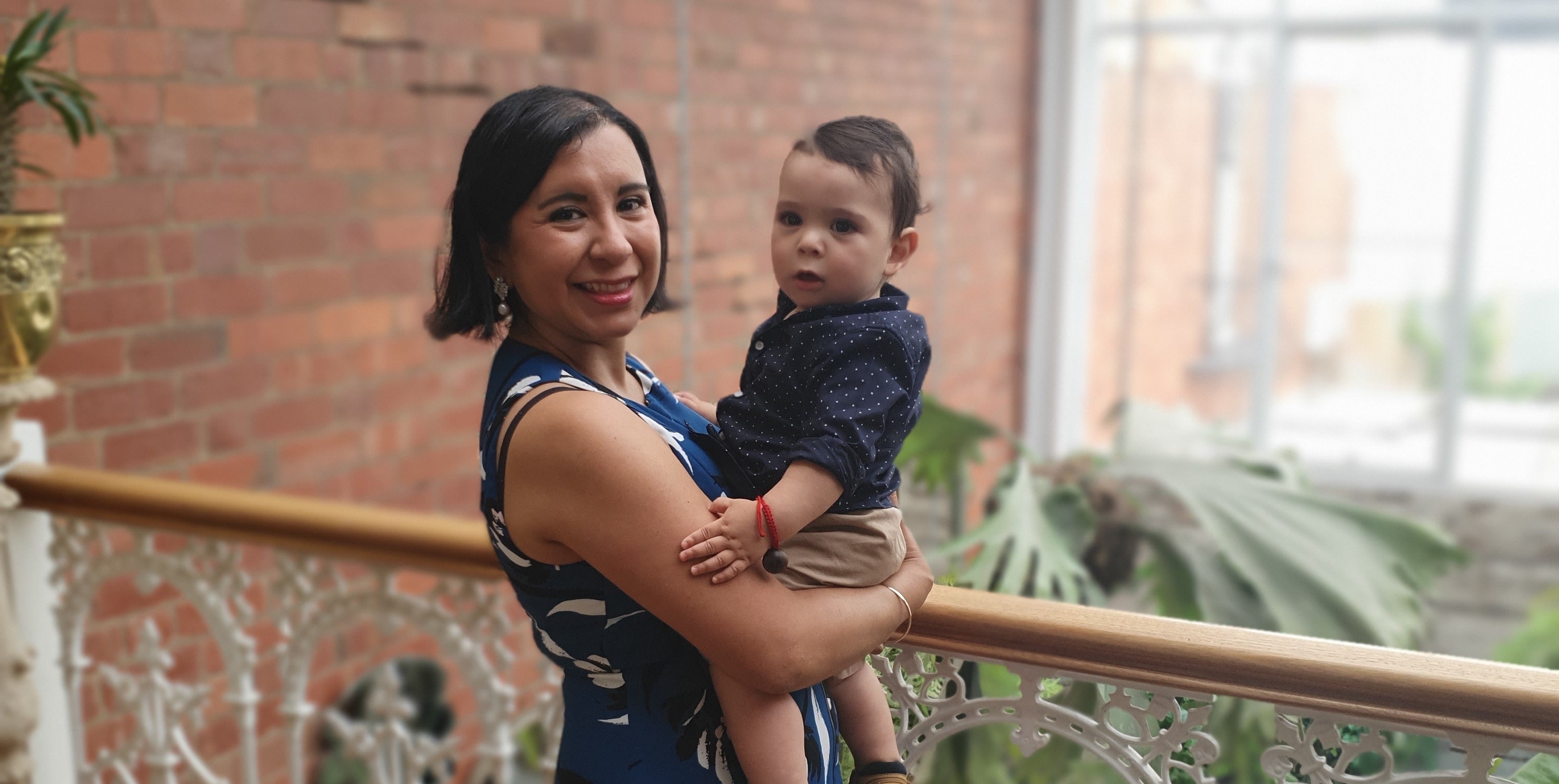 3 December 2020 |
Nearly one in five Victorian women live with disability.
In celebration of this year's International Day of People with Disability, a former patient of the Women's Women with Individual Needs Clinic Dennisse Bonanno has shared her experience of motherhood after experiencing a stroke nearly 10 years ago.
Dennisse's son Maximus will turn one on New Year's Eve this year, and while the weakness on the left side of her body initially concerned her – she has surprised herself with how she has adapted to being a mum.
The big bang
Dennisse was just 20 years old on a fun girls' weekend away in Portarlington, Victoria, when she had excruciating head pains in the middle of the night.
What Dennisse was experiencing was a ruptured aneurysm – a bleed on the brain – which would lead to a stroke just days later.
Now, nearly 10 years on, she good-humouredly refers to this life-changing moment as the 'big bang'.
"I arrived at Geelong Hospital in the early hours of the morning and they did some brain scans – and then, in what felt like the blink of an eye, I was being flown to the Alfred Hospital in Melbourne and was told I need to be put into a coma," said Dennisse.
Her mum, an intensive care nurse living in Hobart with Denisse's dad and brother, received the call in the early hours of the morning.
"Being a nurse, she knew what I was up against and she was panicked and distraught. My brother booked flights for 6am and she packed a small bag – she didn't leave my side for five months."
During the four brain surgeries to try to 'clip' the aneurysm while she was in an induced coma, Dennisse's brain swelled – and that is when she experienced the stroke. After three weeks in a coma, neurosurgeons prepared her family for the worst when Dennisse woke up.
"They didn't know if my ability to speak, my vision, my intelligence or my movement was going to be affected. When I eventually came to and saw my family there, my voice was a bit raspy from the tube down my throat but it was immediately obvious to everyone that my ability to communicate was still there so that was a massive relief."
Dennisse's new normal
Dennisse spent a year rehabilitating, which involved learning to walk again as well as adapting to life with severe weakness in the left side of her body. It was not long before her doctor approved her moving back to Melbourne to finish her degree in architecture.
Fast forward three years and Dennisse meets her future husband Angelo and started her job as an access consultant, ensuring buildings are accessible to people with disability. She is still living with the weakness in the left side of her body – she has a foot drag and doesn't have complete control of her hand, but it's not holding her back.
Early in their relationship Dennisse and Angelo decided they wanted a baby together.
"Because of my stroke I wanted to make sure that we did everything possible for a safe pregnancy. I started seeing one of the Women's doctors for tests in preparation and, when the time came that we tried and then fell pregnant - I had the option to go to the Women with Individual Needs Clinic at the hospital."
The Women with Individual Needs Clinic is unique in Victoria in supporting women with disability throughout their pregnancy and to parent as independently as possible. Each woman has a midwife – who provides continuity of antenatal and postnatal care - and a social worker who takes care of psychosocial needs and any other practical assistance or emotional and social support.
"The Women with Individual Needs Clinic worked with me to go through what would be helpful to me at every stage of my pregnancy, birth and being a mum. They advocated for me to have my own room for our hospital stay, so that Angelo could be there throughout the night to help me, and it was great to have the clinic throughout my time at the Women's, and beyond.
"My obstetrician said that my disability wouldn't dictate whether I had a natural birth or a caesarean so that was really good news that I had that choice. And then when Maximus came we were just so overwhelmed with joy!"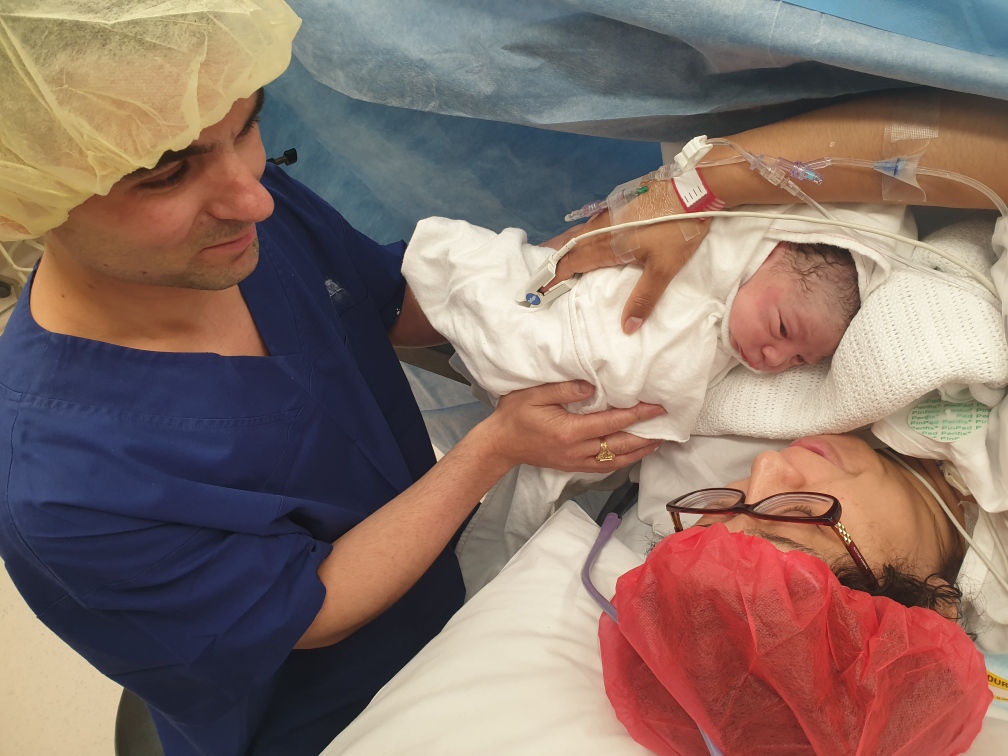 Finding new tricks
Alongside surgeries and extensive therapies, Dennisse has had to adapt almost everything she does to lead an independent life. Whether it's tying her hair one handed or tying bows on dresses or blouses, Dennisse refers to them all as her 'tricks'.
Long before Maximus was born, she knew that motherhood would be challenging on her body, but undertook pilates to strengthen her body for Maximus' arrival.
"Over the years I've been using my tricks so that I won't have to ask others for help. But as a first-time mum, I didn't know how I'd need to adapt and how I would change to be accepting of help.
"But when Maximus was born I really surprised myself. I learnt new tricks and as he grows I continue to learn. I never imagined when he was born that I'd be able to deep squat an 11kg baby, or how much my left arm would help in lifting him, but I can because I've adapted!
"When you become a mum, you would do anything for your baby – and that has stretched me in ways that I never thought possible. It's wonderful. He makes me stronger; physically and mentally. "
"But it's not all on me. When you have a support crew like mine, it's made a lot easier. My husband has been right by my side through everything I do, especially now as a mother. And my mum – from the intense months when I first had my stroke to now – she is my biggest cheerleader and constant support."
Hopes for the future
Reflecting on the past 10 years, Dennisse confidently says that her stroke is the best thing that has ever happened to her.
"It has given me so much strength, determination and resilience. I have learnt that life with disability can be just as awesome as life without. And now, as I see Maximus grow up, I know that he is going to be a caring and considerate man without prejudice – because he will help me along the way. And knowing that is a true gift."
Today (December 3) is International Day of People with Disability. Find out more at www.idpwd.com.au