Improving patient wellbeing through community and companionship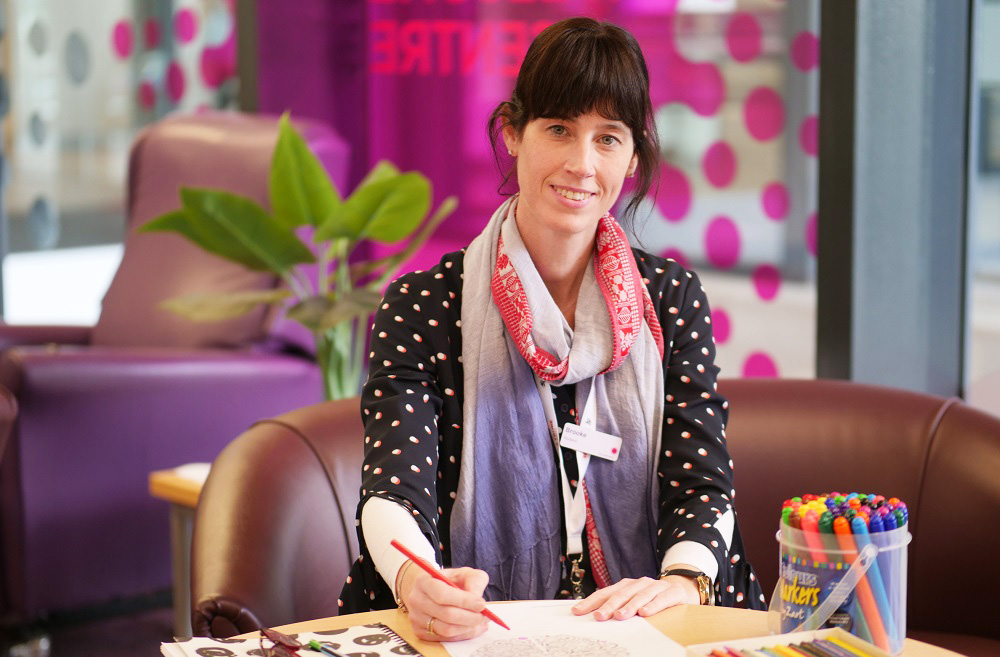 10 August 2022 | Mental health | Staff
The Royal Women's Hospital's new art therapist helps patients and staff to explore their mental, emotional and physical wellbeing through colour.
When Brooke O'Dea talks to people about art therapy, their first response is often to say they can't draw or they are not creative, or even that they don't like art.
But art therapy, which is now being offered as a service at the Women's through the hospital's Spiritual Care services, has nothing to do with creative talent.
During one-on-one therapy sessions, Brooke, who has a background in fine art and is completing a Master of Art Therapy at La Trobe University, encourages patients, their families and the Women's staff to put what they are feeling down on paper. Sometimes what they end up with might just be a scribble.
"No art skill is needed, just an open mind and a willingness to explore within," Brooke says.
"Art therapy invites an individual to explore their inner experiences, feelings and imagination through a verbal conversation and through a visual representation, such as drawing, painting, collage, clay, playdough or photography. Sometimes we don't have the words to describe how we are feeling, so self-expression through creative means can help individuals to understand their inner self."
Art as stress relief
Art therapy is used to promote mental, emotional and physical wellbeing, and is often used to alleviate stress, anxiety and depression.
For patients at the Women's, an art therapy session may help them to come to terms with an issue that has arisen during their pregnancy, or address anxiety they have around birth, postpartum and parenting. Brooke sees cancer patients, parents of infants in the Neonatal Intensive Care Unit and gynaecological patients undergoing surgery.
She also encourages healthcare workers to embrace art therapy as a form of self-care to deal with the stresses of work.
"Sometimes people feel more relaxed when they are doing something with their hands and it helps them to open up – therapy is not so intimidating when you are concentrating on something else," Brooke says.
"The patient can be making art and I can make art at the same time, so it's more of a shared conversation."
Healing through community and companionship
The Women's Spiritual Care team provides assessment, counselling, emotional and spiritual support and ritual to patients and staff across the hospital, in line with a persons' own beliefs, traditions and practices.
The Women's Spiritual Care Practitioner Libby Makin says spirituality for many people is about connection and is often expressed through community, religion, the environment or art and music.
"One thing that is coming out in conversations with patients, and allied health staff offering support, is the general feeling of patient isolation and loss of community at present," Libby says.
"Our team offers companionship and temporary community to patients in the lead up to a visit to hospital, during admission and in the first few weeks post-discharge. We ask the patient what they need in the present moment – are they feeling heard, do they need to talk through their decision making, what can they bring from their past life experience and wisdom gained into this space to help them deal with challenges? Sometimes they just want to chat about normal day-to-day stuff. We are here to spend time with them."