International Women's Day: our role in breaking down gender-based healthcare barriers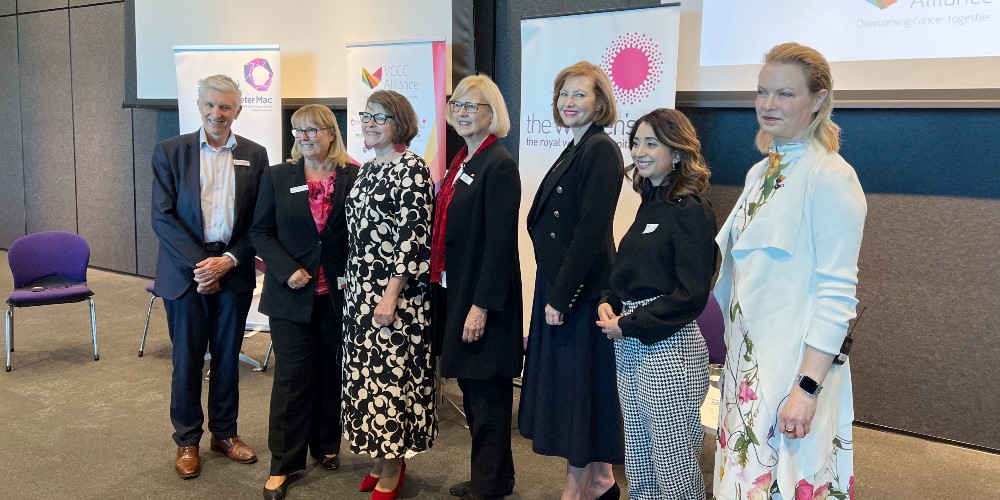 7 March 2023 | Events
The Women's CEO Professor Sue Matthews has spoken at a Victorian Comprehensive Cancer Centre (VCCC) Alliance event, addressing gender bias in Australian healthcare.
A panel of healthcare leaders was joined by notable guest speakers at an important, collaborative event for International Women's Day (IWD), with a focus on addressing medical misogyny.
The talk was hosted by Emeritus Professor Linda Kristjanson, AO, Chair of the VCCC Alliance, and featured presentations by The Hon Ged Kearney, Assistant Minister for Health and Aged Care, and award-winning health journalist and author Gabrielle Jackson.
Attendees heard about how gender bias plays out in a healthcare setting, and what can be done to change our current system.
The Women's CEO, Professor Sue Matthews, joined Peter MacCallum Cancer Centre Chief Medical Officer, Professor David Speakman and the Victorian Department of Health's Deputy Secretary, Public Health, Professor Zoe Wainer.
"As we move from a provider-driven health system to a person-centred healthcare system, its about acknowledging that the person we are caring for is the expert in their own life. We are not the expert, we are simply providing expertise," Professor Matthews said.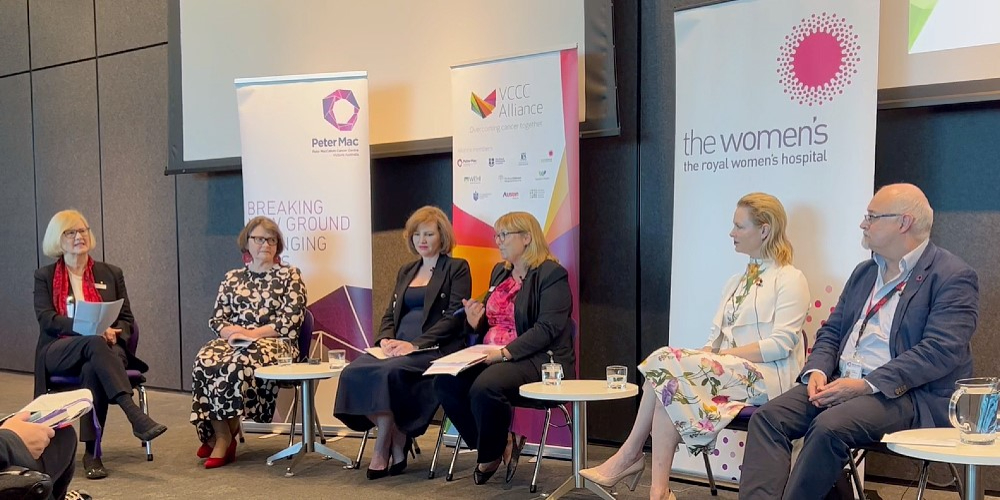 Emeritus Professor Linda Kristjanson, Ged Kearney MP, journalist Gabrielle Jackson, Professor Sue Matthews, Professor Zoe Wainer and Professor David Speakman.
Assistant Minister Kearney detailed the Australian Government's future priorities and pathways for female-focused healthcare.
"As a government we aim to address gaps in research, improve treatment and management of health conditions where outcomes are known to differ by sex, and identify differences in respect to clinical devices, diagnostic tools, medical devices and medical consent," the Assistant Minister said.
"We owe it to the women who suffered, and those who should never have had to…this is a frontier we need to push."
Ms Jackson, author of 'Pain and Prejudice: How the Medical System Ignores Women And What We Can Do About It', spoke passionately about the need for change.
"I was left with many questions: why were women all around the world no matter their age, wealth or background, given false information, fed old wives' tales, disbelieved or written off as hysterical when seeking treatment for endometriosis?" Ms Jackson said.
"Medicine cannot fix this on its own – this is also a societal issue."
Emeritus Professor Linda Kristjanson said a starting point for any change is "our collective mindset".
"We've named the problem, we've pointed to the data, and we've produced some vivid lived experiences of the healthcare inequities encountered by women – it's essential that we seek systematic evidence."
The Women's is participating in a number of important International Women's Day events, after hosting our own event on 2 March.