Mum of triplets shares breastfeeding journey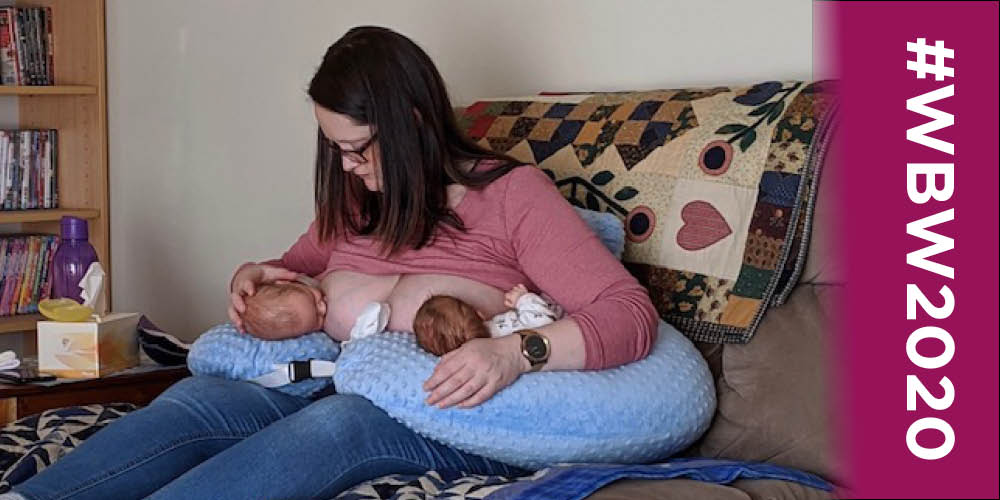 6 August 2020 | Pregnancy and newborns
When Linda gave birth to her triplets at 32 weeks' gestation in April this year, she knew from the outset that her breastfeeding journey wouldn't be without its challenges.
During her pregnancy, Linda had discussed with her partner Brad that her goal was to 'tandem feed' two of her babies and bottle-feed the third and ensure the baby who was bottle-fed was on the breast during the next feed.
But with her milk slow to come in and her babies in special care and intensive care at the Royal Women's Hospital, she felt disheartened that despite expressing and extensive breastfeeding, she still had to turn to formula and lost hope of reaching what she set out to achieve.
The Women's lactation consultant Anita Moorhead helped Linda when the triplets – Lachlan, Lila and Scott - were eight days old, giving her strategies to improve her milk production and give her more freedom.
"Anita is such a wealth of knowledge and way she encouraged me, without setting the bar too high, and really made me more hopeful about the way I feed my babies," said Linda.
"I put a lot of pressure on myself to spend as much time as possible breastfeeding. But I soon realised that I needed to be a mum in other ways. While I still really value the bonding that breastfeeding gives me and my babies, Anita's advice on expressing has given me time to do things like bathe and play with them.
"I really don't think I would have progressed as well as I have done without the help of the lactation team at the Women's. We talked through what was possible and what was probable and reset the way I approached feeding my babies, ensuring I looked after myself.
"It is so rewarding to know that even now, with my babies nearing the four months mark, my milk production is still increasing. I'm still using a bit of formula, but I'm so proud."
During World Breastfeeding Week (1-7 August) the Royal Women's Hospital is shining a spotlight on the advice and patient stories that new and prospective mums might find helpful on their breastfeeding journey.
The Women's was the first hospital in Australia to be officially recognised by the UNICEF and World Health Organization's Baby Friendly Hospital Initiative for its commitment to breastfeeding. And 25 years on, that recognition still stands.
In acknowledging World Breastfeeding Week, Anita Moorhead said it's important to recognise that although breastfeeding makes sense to do on many levels, it can still come with its challenges.
"The benefits of breastfeeding are clear to see for mother and baby, so there's no wonder that so many women plan to breastfeed. Some women are uncertain about how long they are going to breastfeed, what their breastfeeding journey might look like and how they will navigate any challenges that they might face.
"In Linda's case, it was important that we recognised from the outset that she might not be able to produce enough for all three babies, but that it was possible. Expectations are allowed to fluctuate as your baby develops. There are mums who put a lot of pressure on themselves to breastfeed, but this doesn't always help their babies get what they need.
"World Breastfeeding Week for us at the Women's is about celebrating how brilliant breastfeeding is for mothers and babies. But it's also about recognising that every mother and baby has a different bond and a different breastfeeding journey."
Lactation consultants at the Royal Women's Hospital are available to women birthing at the Parkville or Sandringham hospitals who are having difficulties reaching their breastfeeding goals.