Sporting inspiration kicks off International Women's Day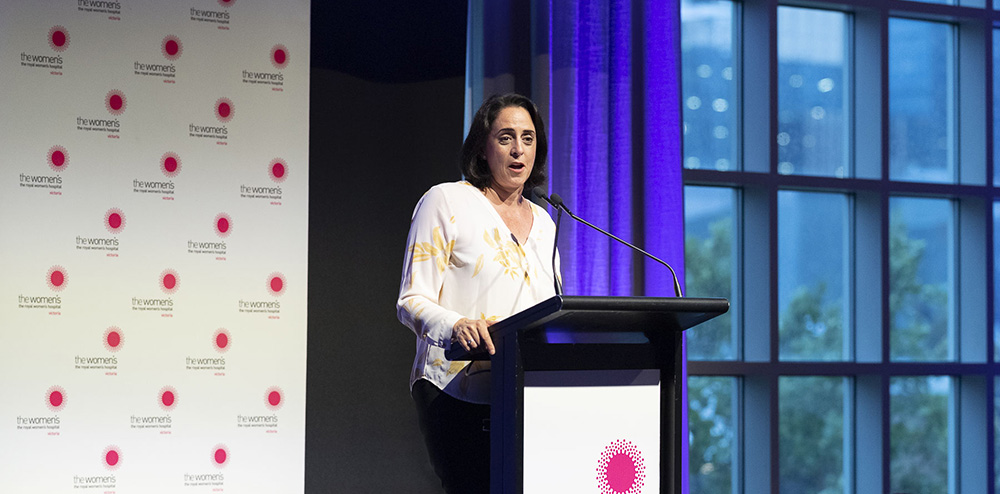 5 March 2020 |
The Royal Women's Hospital has kicked off International Women's Day celebrations with its fourth annual breakfast event this morning [5 March], inviting leaders in business and health to hear from this year's keynote speaker Nicole Livingstone AOM, and the Women's CEO Dr Sue Matthews.
Both speakers talked about the importance of supporting, lifting up and being inspired by women, using examples from AFLW and a woman's experience of the healthcare system.
Nicole Livingstone's sporting accolades and television appearances are well-known, but less is known about Nicole's deeply personal relationship with the Women's. When her mother was diagnosed with ovarian cancer, it was staff at the Women's who cared for her up until her passing in 2001.
Since then, Nicole has gone on to co-found Ovarian Cancer Australia with her sister, Karen, and is now Patron of the charity – as well as leading a surge in AFLW uptake as the Head of Women's Football at AFL.
During her keynote speech, Nicole Livingstone spoke about this year's theme for International Women's Day – 'Each for Equal' – saying, "Within this year's theme, one part has certainly resonated with me – that we can actively choose to challenge stereotypes, fight bias, broaden perceptions, improve situations and celebrate women's achievements."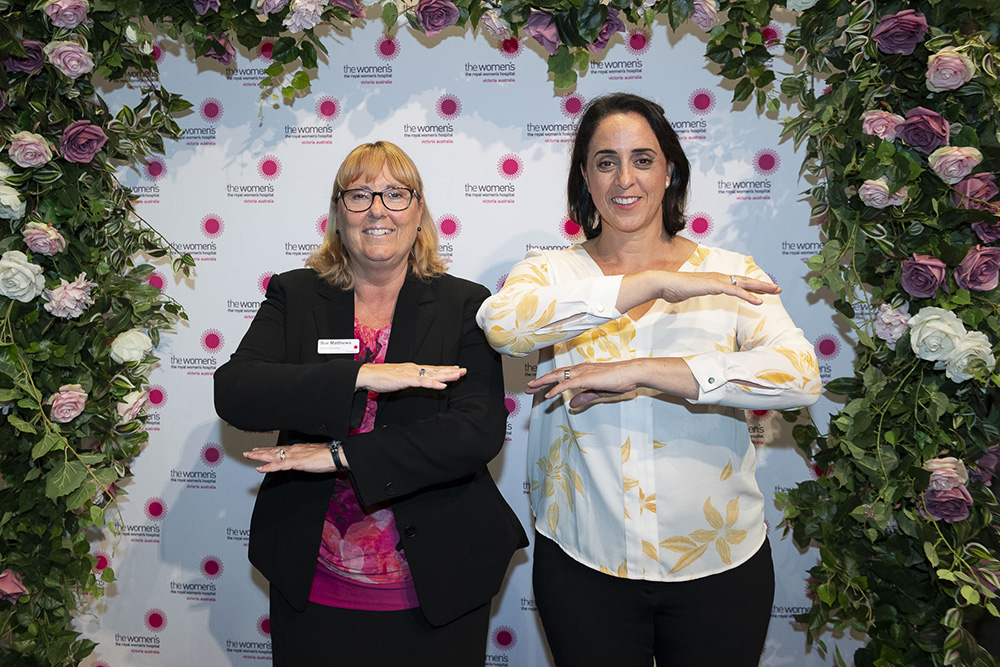 Nicole also spoke about her mother's care and the legacy she has left behind.
"My mum received exceptional care from the Women's in the final months and days of her life."
"After exhibiting some symptoms that were put down to 'that time in your life', mum was diagnosed with Ovarian Cancer in 1998. We were initially surprised that a cancer we knew so little about had entered our lives. A major clue should have been the fact that her sister Dawn too had been diagnosed with the 'silent killer' years earlier. We knew nothing about the genetic link that loomed in our family. We searched without much luck for information and options, whilst remaining positive about what we were reading online.
"Mum went through a rollercoaster ride of on and off chemo, in and out of remission. We met the wonderful Professor Michael Quinn [at the Women's] about 18 months into mum's battle. And regardless of the inevitable, Michael's style was to make every woman feel important and to have the dignity they are entitled to have in their lives.
"My mum left a legacy that has allowed me to be considerate about my own health and to make choices and to make plans and to not have to go through what she went through. So to remove ovarian cancer from my future is the legacy my mum has left. I gained access to screening, medical experts and was able to form a plan forward with Michael Quinn – the same doctor my mum was cared by."
Nicole also paid special thanks to consultant gynaecologists Dr Deb Neesham and Mr David Wrede for their expert care of both her mother and Nicole herself, respectively, as she formed a plan to reduce her risk of ovarian cancer.
Nicole finished her speech by speaking about the work of Ovarian Cancer Australia over the 20 years of its existence, fighting for a detection test for this 'insidious disease'.
"An equal world is an enabled world. Individually, we're all responsible for our own thoughts and actions - all day, every day.
"Collectively, each one of us can help create a gender equal world. Let's all be each for equal."