Support through infant loss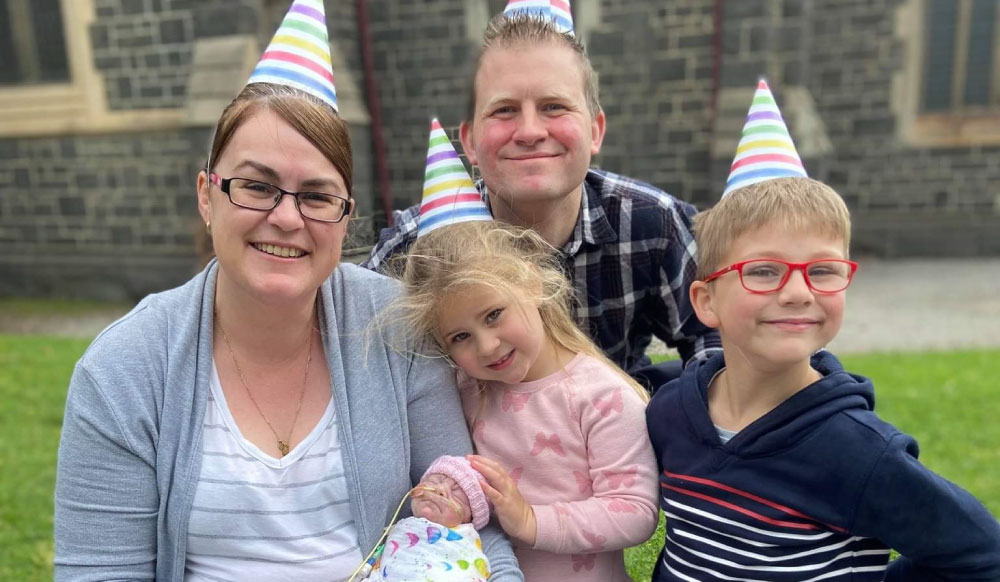 23 March 2023 | Babies | NICU
Mylah passed away at nine weeks old from a rare genetic condition. This Say Their Name Day (25 March 2023), her mother Jodie shares her story to help other families feel less alone.
Jodie's pregnancy with Mylah, her third baby, was complicated. From 18 weeks, issues began to arise and at 24 weeks her care was transferred from her local hospital in Bendigo to the Women's.
Following extensive testing, including an amniocentesis and MRI, Mylah was diagnosed with a rare, life-limiting genetic condition affecting her brain called Miller-Dieker syndrome. It affects 1 in 100,000 births, and there is no cure.
Mylah was born at 31 weeks on 23 August 2021, weighing 1082 grams and measuring 37cm long. She was admitted to the Women's Neonatal Intensive Care Unit (NICU). Hours after her birth, the family were told that the suspected cardiac issues Mylah had were worse than expected, and to prepare for the worst.
"We were so fortunate that Mylah's amazing team of doctors, especially neonatologist Dr Sheryle Rogerson, were able to stabilise her many cardiac conditions with medication. Mylah was able to show them her immense fight and determination," Jodie says. "We also had incredible support from the Palliative Care team at the Women's."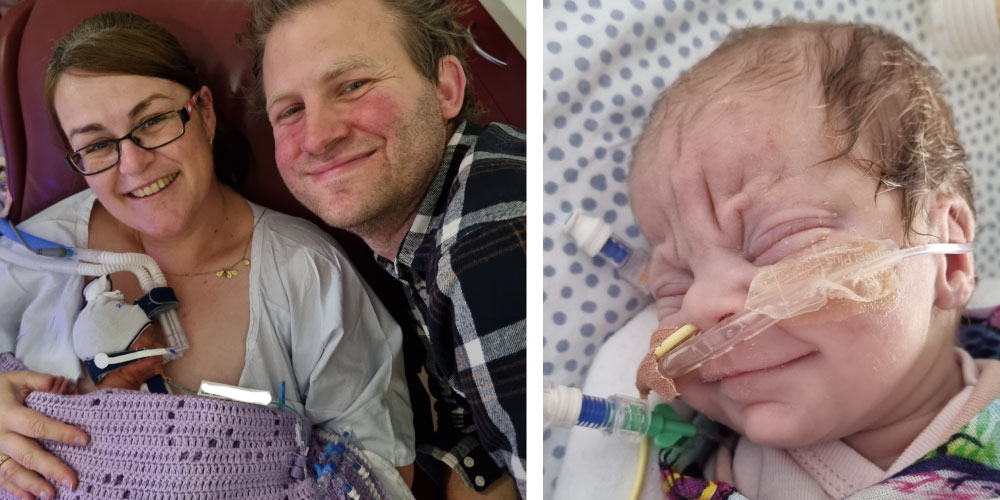 Mylah spent seven weeks in the Women's NICU.
Hospital in the Home program aided precious memories
When Mylah was seven weeks old, she was moved from the NICU to an apartment near the Women's as part of the Hospital in the Home program.
This allowed Mylah to spend time with her siblings, who hadn't been able to meet her in person due to COVID restrictions at the time, while still receiving the round-the-clock care she needed to keep her stable.
"The amazing team at the Women's have all been our extended family since the beginning, but especially Dr Sheryle and our social worker Nina Grillo," Jodie says.
In the end, her complications and battles became too much. Mylah passed away peacefully and quickly in her mother's arms, with her Dad Raoul by her side, at nine weeks and three days old.
"We returned to the hospital for the Women's Annual Memorial Service in November 2022, and included Mylah's name on the 'Born at the Women's wall. We also set up a page on Facebook and Instagram in Mylah's memory, called Mylah's Gift, where we donate children's books on grief and loss to fellow bereaved families at the Women's," Jodie says.
"It's our way to say thanks and give back to the hospital, and share a little of our angel – her remarkable strength and determination. We also hope to help future families feel a little less alone in what is an incredibly isolating period after the loss of a much loved and wanted baby."
Why we should all 'say their name'
The Women's Reproductive Loss Coordinator Sharon Kirsopp says Say Their Name Day is important because it gives families the opportunity to acknowledge, celebrate and remember their baby.
For Jodie and her family, they rarely hear Mylah's name being spoken out loud and that can compound the grief.
"So often people tell me they don't want to say Mylah's name for fear of reminding me of her, and upsetting me. This just breaks my heart more because Mylah will never be someone we forget," Jodie explains.
"We remember her every single day. She will always be a huge part of our family. By saying her name, you remember that she lived. And that to us is the most important gift."
Say Their Name Day aims to raise awareness of pregnancy, infant and child loss and the profound impact loss has on bereaved families. Thank you to Jodie for sharing her story.