The Women's leads critical health discussion at Governor's Lecture Series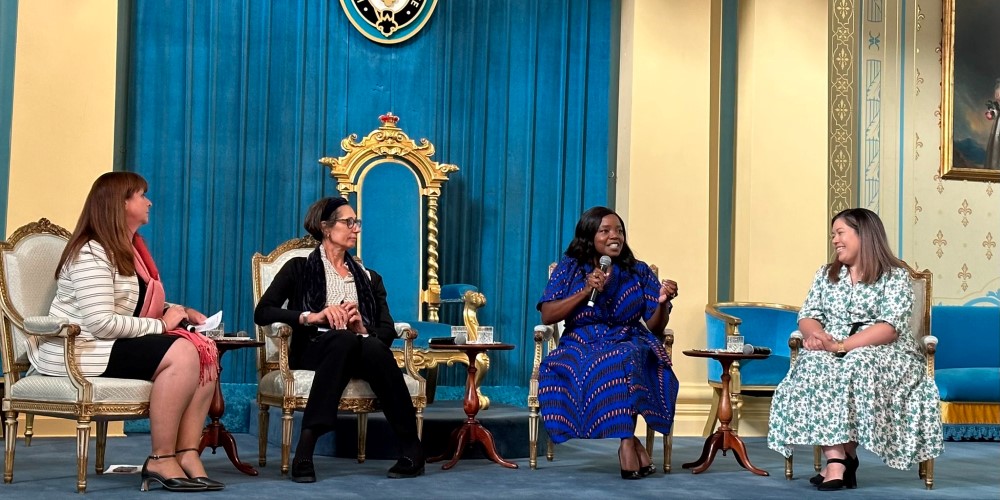 9 March 2023 |
Prominent clinicians and researchers from the Royal Women's Hospital have addressed important questions about health and equity as part of the Victorian Governor's Lecture Series.
Specialised and individualised care that understands and empowers women is at the core of gender equity in healthcare.
That was the key message shared during the evening's panel discussion, facilitated by the Women's Acting CEO Lisa Lynch, and featuring Professor Marie-Paule Austin, Dr Tanaka Dune and Associate Professor Michelle Peate.
The event, part of International Women's Day celebrations, took place at Government House earlier this week.
Our panel discussed an array of topics, including breaking down the stigma associated with many women's health issues. Dr Tanaka Dune, a pelvic floor specialist at the Women's, encouraged women to feel comfortable in describing where their pain or discomfort is occurring.
"When undertaking an examination, I ask my patients to 'use the words' or 'tell me where it hurts' – we need to understand that our bodies are normal," Dr Dune said.
"One of the most powerful tools I use is a mirror. This helps patients identify clearly how we can help."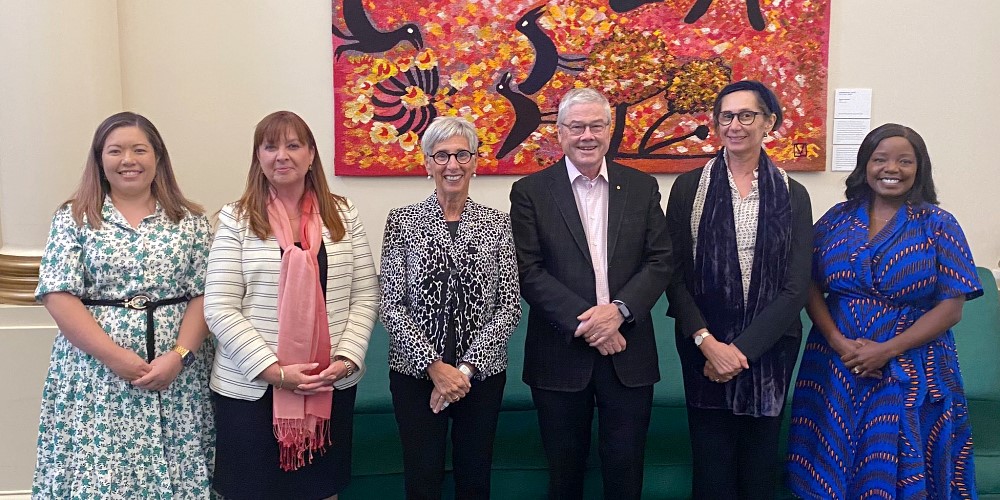 The Women's Panellists with Governor the Hon. Linda Dessau AC CVO and Mr Anthony Howard AM, QC (centre)
Important mental health topics were also raised by panellist Professor Marie-Paule Austin, the Women's Head of Psychiatry.
"Since the pandemic, demand for mental health services has just skyrocketed – with many women seeking out these services having experienced complex trauma," Professor Austin said.
"We need to reduce barriers for women through continued, routine, quality antenatal care, and strong communication between multi-disciplinary services within our public hospitals."
Research-informed patient care was also a key area of discussion, with fertility expert A/Professor Michelle Peate discussing her latest work in developing decision-making aids for women considering freezing their eggs.
"My research is about asking the right questions, and providing objective information. We want those wishing to freeze their eggs to make the best possible decision for themselves and their family," she said.
A/Professor Peate said that patient outcomes also improve as more women enter the research field.
"I am grateful for the women that came before me – they paved the way so I can now help to advocate for equity in clinical trials and research, and for better healthcare for women," she said.
The importance of the Governor's Lecture Series, and other International Women's Day events was summed up by the Women's Acting CEO Lisa Lynch.
"Women and girls compromise half of the world's population…investing in women's health is fundamental to high-functioning, prosperous and fair socieities," she said.
The evening's host, Victorian Governor The Hon. Linda Dessau AC CVO, said she wanted to encourage open discourse about issues that affect girls and women.
"This ballroom has hosted an array of events…but through that long history the words 'endometriosis', 'fertility,' 'menopause' and 'incontincence' have not often been uttered here," Governor Dessau said.
The Women's has taken part in a number of IWD events, including hosting a breakfast on 2 March and participating in a VCCC Alliance panel event on 3 March.