Type 1 diabetes in pregnancy – proving that technology can make all the difference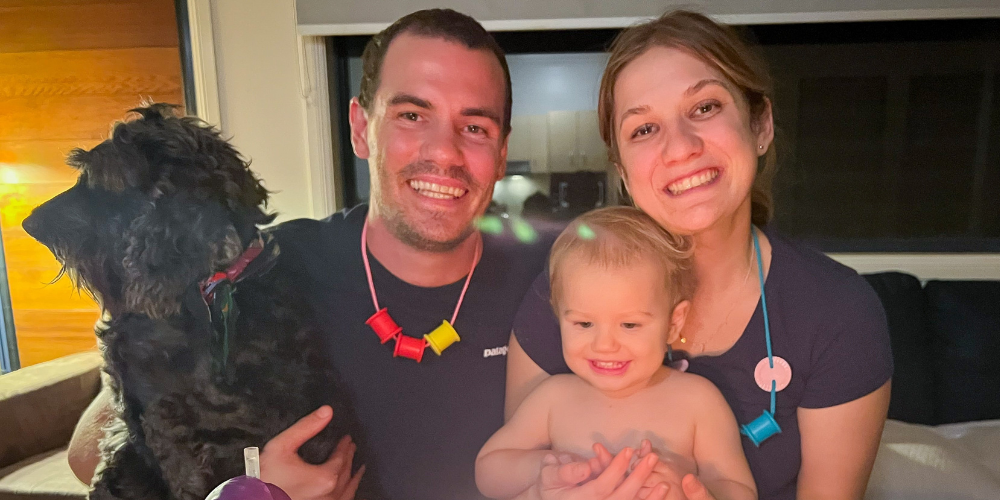 13 July 2023 | Pregnancy
During National Diabetes Week, the Women's is launching a new Australia-wide study: the Continuous glucose monitoring (CGM) in type 1 diabetes pregnancy study.
Dr Sarah Price, Director of Obstetric Medicine at the Women's, says her research team is keen to prove that the use of CGM technology during pregnancy is a real game-changer for pregnant women with type 1 diabetes and their babies.
High blood glucose levels during pregnancy significantly increase the risk of complications, such as miscarriage, pre-eclampsia, pre-term delivery and neonatal intensive care admission. Women living with type 1 diabetes have to tightly control their blood glucose levels to ensure a safe and healthy pregnancy.
CGM technology uses a transmitter to wirelessly send glucose data from a sensor to a device where it can be easily viewed and understood. It has revolutionised the treatment and management of type 1 diabetes and is believed to have improved health outcomes for mothers and babies. However, there has been no large-scale Australian study that has proven these benefits in a real-world setting.
How can CGM technology support women with type 1 during pregnancy?
Alexandra Hodal knows what works for her and her type 1 diabetes.
Diagnosed with the auto-immune condition at age four, the young Melbourne mum is expecting her second baby in early September. She says a continuous blood glucose monitoring (CGM) device is essential, especially during pregnancy.
"It just gives me peace of mind and helps me make sure that my diabetes is as best controlled as possible," Alexandra says.
"Ever since I've started using CGM, I've noticed a big change in my everyday diabetes management.
"My blood glucose levels have become much more stable, and I've spent more time in target range. CGM has helped me do the best I can for my baby's health."
If type 1 diabetes isn't managed carefully during pregnancy, the mother's high glucose levels can potentially damage the baby's heart, spine and kidneys.
Alexandra's first child, Fleur, was born in October 2020 at 38 weeks and weighing in at a very healthy 3.2 kilograms (just over seven pounds).
Dr Price says baby Fleur's moderate weight would have been remarkable a few decades ago.
"Mothers with type 1 diabetes used to have very, very large babies who often had multiple health issues".
"In our clinic, the majority of women with type 1 diabetes now use CGM during pregnancy," Dr Price says.
"We have a lot of evidence that this technology is a game-changer for health outcomes from clinical trials … but we need to be able to provide evidence that these impacts are the same or even better in the real world."
About the Continuous glucose monitoring in type 1 diabetes pregnancy study:
Over the next three years, 11 sites in Australia will systematically collect and analyse CGM data from hundreds of women with type 1 diabetes during three phases: planning the pregnancy, during pregnancy and three months after delivery.
Expecting mothers can participate anonymously and their data will be connected to demographical information such as the baby's weight, length of pregnancy, maternal complications and the baby's health.
In clinical trials performed overseas, women who used CGM in pregnancy had better glucose control than women who did not. The outcomes for babies whose mothers used CGM were better too.
The next step is to evaluate the benefits of CGM in the real world.
"We are hoping that our study will influence clinical practice so that all women with type 1 diabetes have the best possible chance of having a healthy baby," says Dr Price.
Funded by JDRF Australia, the Australia-wide study will start in coming weeks.