United fight against ovarian cancer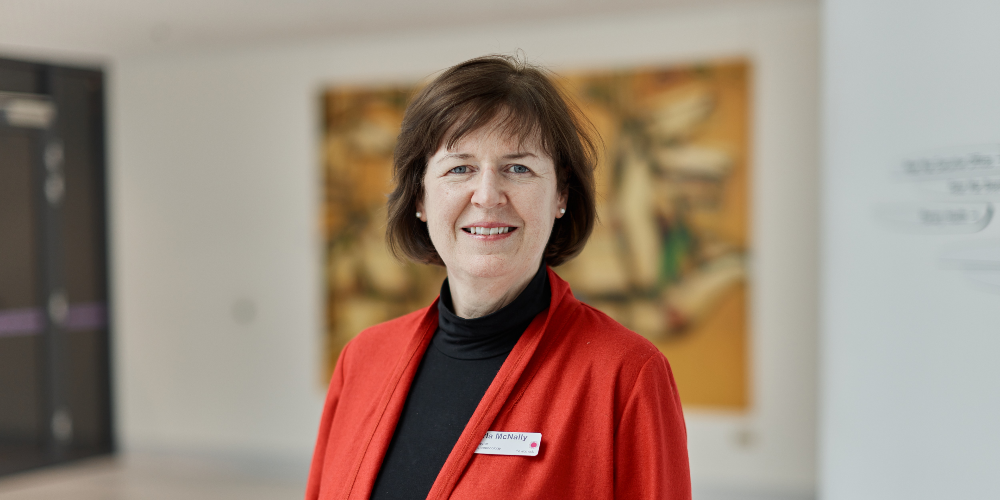 1 February 2022 |
The Royal Women's Hospital is a leader in surgical treatment of ovarian cancer, with our experts also at the cutting edge of research. As part of Ovarian Cancer Awareness Month, we share how we are working hard to improve the lives of those diagnosed.
Ovarian cancer is the deadliest gynaecological cancer, with more than 200,000 women dying from the disease annually – including more than 1,000 Australian women.
While progress in diagnosing and treating ovarian cancer has been slower compared to other types of cancer, surgery has proven a highly effective way to help women deal with ovarian cancer, and improve quality of life.
Research has also been a critical area of learning, with a focus on chemotherapy, PARP inhibitor drug therapy, and genetic screening trials.
Associate Professor Orla McNally, Director of Gynaecology and Cancer Services at the Women's (pictured above), helps to diagnose, treat and manage pre-cancerous and cancerous gynaecological conditions, and leads an all-female surgical team alongside Dr Deborah Neesham, Dr Antonia 'Toni' Jones and Dr Nive Rajadevan.
Ovarian cancer is one of A/Prof McNally's areas of specialty, with around 70 patients presenting annually to the Women's shared service with Peter MacCallum Cancer Centre and the Royal Melbourne Hospital.
"Effective surgical removal of ovarian cancer cells is one key way that we can improve the lives of women diagnosed with ovarian cancer," she said.
"The procedure can be very complex, with some of these areas of cancer so small that they resemble powdered sugar, dusted throughout a patient's abdominal cavity."
A/Prof McNally maintains that chemotherapy, alongside surgery, is the best, current method of treatment. These treatments can be offered simultaneously in some cases – an unusual occurence in the cancer space.
A major challenge for experts is that ovarian cancer symptoms are commonly mistaken for gastrointestinal problems, and go undiagnosed. Research shows that genetics also plays a powerful role, with mutations in two genes (BRCA1 and BRCA2) linked to ovarian, breast, and other types of cancer.
"While ovarian cancer is very complex, and often has underlying genetic factors, we are doing all we can on the research front to improve diagnosis and treatment," said Gynaecological Oncologist Dr Toni Jones.
"One trial taking place through the Women's is looking at putting chemotherapy at different temperatures into the abdomen at the time of surgery. In another study, we are looking into how we can balance quality of life with invasive or complex treatments, with our patients bravely contributing this data."
Around 1,700 new cases of ovarian cancer are diagnosed each year in Australia, and seven out of 10 women have late stage disease. This was the case for Dawn Sulley, who was diagnosed with stage 4 ovarian cancer in 2019, and returns to the Women's for regular check-ups and ongoing care.
"The quality of care at the Women's has been exceptional, I can't fault it. The staff are amazing people, they make you feel at home, and like family. It makes a huge difference during treatment," Dawn said.
"My message to all women is to not disregard symptoms, no matter how slight. Know your body and ask for a second opinion. It was the willingness of a second GP to look beyond the obvious that saved my life."
As part of Ovarian Cancer Awareness Month, women are encouraged to learn the signs of ovarian cancer:
Increased abdominal size or persistent abdominal bloating
Abdominal or pelvic (lower tummy) pain
Feeling full after eating a small amount
Needing to urinate often or urgently
Additional symptoms:
Changes in bowel habits
Unexplained weight gain or loss
Excessive fatigue
Lower back pain
Indigestion or nausea
Bleeding after menopause or in-between periods
For more information, visit our webpage or go to Ovarian Cancer Australia.