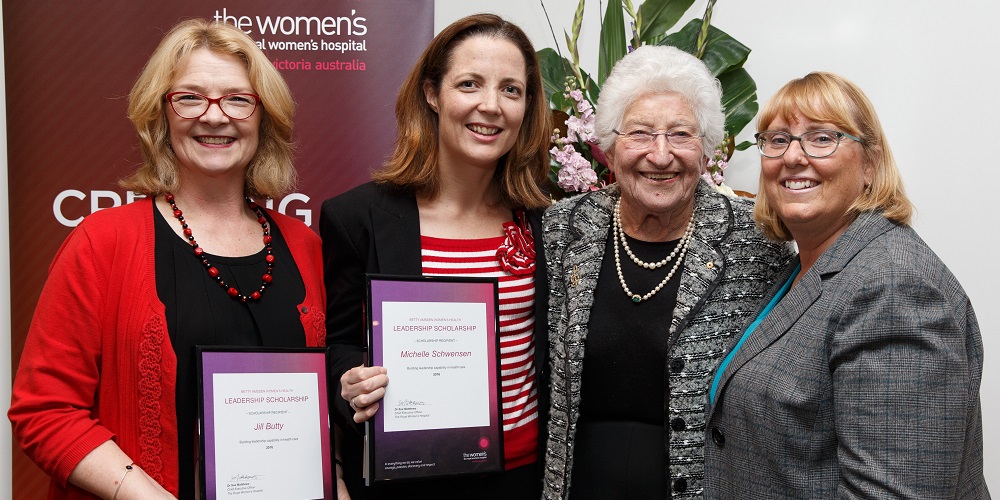 9 March 2017 | Fundraising | Events
Generous philanthropist and long-term supporter of the Royal Women's Hospital, Betty Amsden, has sadly passed away, aged 90, at her Kew home.
Ms Amsden was born at Sandringham Hospital, of which the maternity unit is now the Women's at Sandringham. Her mother was a midwife who established her own clinic, and her father a master builder. One of Ms Amsden's first jobs was helping her mother to register the births. She forged a successful career as a business woman and was well-known for her commitment to the Arts in Melbourne and various other charities.
Her impact over the years at the Women's has been felt by many and has a permanent place in the hospital's history – the striking bronze statue in the Women's lower ground atrium, designed by Melbourne sculptor Michael Meszaros, was donated by Ms Amsden in honour of her mother. The statue was unveiled, along with another outside the hospital entrance, on 21 May 2008 by Ms Amsden.
She also generously funded scholarships for midwives and since 2015, she has supported the Betty Amsden Women's Leadership Scholarship, allowing the Women's staff to develop their careers and leadership.
Jill Butty, Director of Quality and Safety, was one of the 2016 scholarship recipients. "Betty was an inspirational person who encouraged women to show their leadership qualities and provided the support for people to do so. She will be greatly missed," Ms Butty said.
Michelle Schwensen, Engagement, Advocacy and Innovation Manager, also received a scholarship in 2016 and said Ms Amsden was "extraordinary".
"I was so grateful to receive the Betty Amsden Scholarship last year and to also meet the extraordinary Betty – what a wonderful woman she was. Thanks to Betty, through the course I attended I got a real boost in confidence in my leadership skills, and I will always be grateful for her support of my career and development," she said.