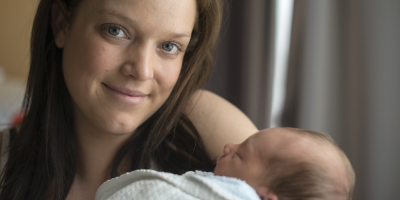 We believe that every birth is special, and that your labour and the birth of your baby will be a very personal and special time for you.
You should have already discussed your birth plan and pain relief options with your doctor or midwife, and the 'Having your baby at the Women's' book should provide you with nearly all the information you need.
There are a variety of fact sheets available that might be useful, and our health information section contains all the information in the 'Having your baby at the Women's' book.
Please feel free to keep asking your doctor or midwife any questions you wish throughout your labour and birth. Our staff are there to help and guide you.
Preparing for labour
Normal labour is painful, but many women find that there are techniques to help them to cope with the pain of labour and reduce the use of drugs for pain relief. Having encouraging and supportive people caring for you is also very important.
Being active through your labour and birth can help you to manage and to take control. Some techniques for managing pain have been well researched while others have been adopted by women and cultures through generations. They may not be proven ways to manage pain but women find them very effective. We encourage you to try methods that suit you. Read more on active birth.
Advice for women in early labour
A doctor or midwife at the Women's has examined you and decided that you are in the early stages of labour. Sometimes this is called the latent phase of labour. Or you may have been told that your labour is not yet fully established.
Research tells us that the best place to spend this phase of labour is at home.
At home, you have the freedom of your own surroundings. You can eat, sleep and move around at your own pace. Listen to your body and do what you instinctively feel is right for you. Remember that your experience is uniquely yours.
When to return to hospital
You should return to the hospital if:
your waters break
you have vaginal bleeding that is not mixed with mucous. Vaginal bleeding with lots of mucous is called a 'show' and is a sign that labour is progressing normally. You can also get a 'show' if you have had a vaginal examination during your admission.
the contractions are regular, last more than 30 seconds and are closer than 5 minutes apart
you are frightened or unsure about what is happening
you need pain relief
you do not feel your baby moving
Remember, you can phone the hospital at any time if you have questions or concerns. It is not unusual for some women to have more than one admission before labour is fully established, especially if this is your first baby.
What to bring to hospital
Some items that people find useful for bringing to hospital are listed below.
For labour
Clothes for labour - old t-shirt, warm socks, old knickers and tracksuit for afterwards
Own pillow (labelled) if desired
Gel heat pack
Oil, talc or lotion for massage
Spray bottle (non aerosol) for cooling
Tissues
Toiletries - soap, shampoo, tooth paste, tooth brush
Food, such as barley sugar, jelly beans, fruit bars
Thongs or slippers
Lip cream for dry lips
Camera.
Support person
Bathers and towel for bath and shower
Coins for phone/parking meter
Food - snacks, juice, special teas, celebratory drinks if desired.
Mother and baby
Comfortable clothing, shoes (for daytime)
Nightwear - dressing gown, slippers (footwear MUST be worn at all times)
Nursing bras and nursing pads
Extra underwear
Maternity pads (3pkts)
Baby clothes and blankets to take baby home in
Infant car restraint (for day of discharge)
Cotton balls or baby wipes
Disposable newborn nappies (pkt of 32).
If you prefer, you can use your own baby clothes in hospital.
If you are planning to use artificial formula to feed your baby, please bring the formula of your choice, either a can or sachets.
Please leave jewellery, credit cards and other valuables at home.
Do not bring in large amounts of cash.
After the birth
The length of stay after the birth of your baby will depend on the wellbeing of you and your baby. If you have an uncomplicated vaginal birth and you and your baby are well, you may go home the day after the birth or from six hours after the birth. If you have a more complex birth you will require a longer stay in hospital. Women who have had a caesarean birth may stay up to 72 hours.
All new mothers will be supported with midwives from the Women's visiting you in your home.

A Breastfeeding Support Service is available to mothers and babies between the ages of newborn to three months who are having feeding difficulties. Find out more about breastfeeding support.
---
---