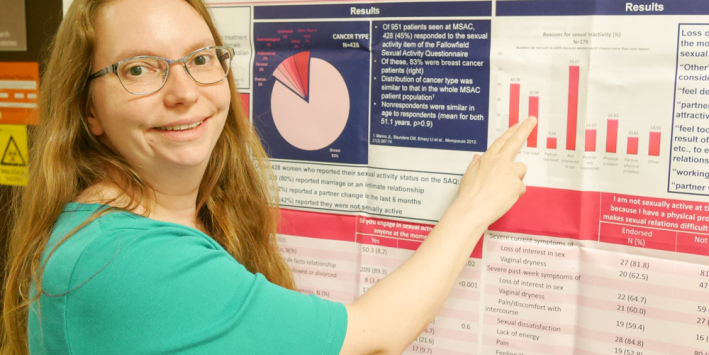 The leading work by the Women's Gynaecology Research Centre (WGRC), particularly in the area of Menopause Symptoms After Cancer (MSAC), was highlighted at the recent Australasian Menopause Society Scientific meeting in Perth.
WGRC's Dr Jennifer Marino was honoured with the Barbara Gross Award for her work describing physical problems among women who are not sexually active. Dr Marino found that severe vaginal dryness and pain with intercourse are more common in those who attributed their sexual inactivity to physical problems rather than illness or low energy. The research was conducted with patients at our sister MSAC clinic at the King Edward Memorial Hospital (KEMH) in Perth and is part of a body of work about sexuality after cancer by Dr Marino, Professor Martha Hickey, and colleagues at the KEMH
Sexual menopausal symptoms are a common effect of cancer and its treatment but women often find it difficult to discuss them with their health care providers. Sexual problems can adversely impact on women's relationships, self-esteem, and happiness. The Women's MSAC clinic tailors programs to suit the individual needs of each woman, involving gynaecologists, endocrinologists, fertility specialists, sexual counsellors, Centre for Women's Mental Health staff and specialist nurses. MSAC is also a centre for research to improve our understanding and treatment of these problems.