For many years, in order to be admitted to the 'Lying-in Hospital' women had to prove that not only were they in dire financial circumstances but also that they were respectable.
The hospital was a benevolent institution dependent on donations and subscriptions from the successful and comfortably-off sector of society – these were not people who wanted be seen to be supporting an institution that assisted the morally lapsed.
However, that is precisely what happened. Whether by doctors admitting women in labour without abiding by the requirement for the Ladies' Committee to first vet candidates, or whether the ladies were more generous than they were purporting to be, a large proportion – occasionally as many as half – of the women giving birth at the hospital were unmarried.
The hospital is located in an inner suburb of Melbourne and many of the suburbs around it were already slums by the end of the 19th century. By the depression of the 1930s it was an impoverished working class area, although few had work.
In the post World War II period these suburbs housed the great influx of European migrants attempting to get a foothold in Australian society. It was from this background that most of the patients came to be treated for free, or for minimal charge. Because the 'Lying-in Hospital' was the major teaching institution for obstetrics and gynaecology, these patients generally received the best treatment available in the city.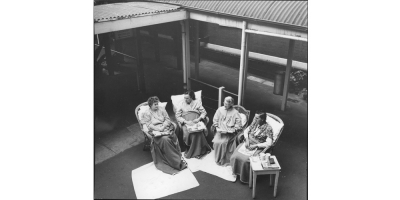 The photo shows patients enjoying the sun near a covered way that linked several of the hospital's buildings These were demolished in the late 1960s. Photographer unknown.
Patient records
The records in the Women's archival collection include scanned and reproduced records of patients who were treated at the hospital more than 100 years ago.
An article indicating the value of the 19th century patient records by Dr Janet McCalman, author of the prize winning book Sex and Suffering: Women's Health and a Women's Hospital appears in that section.
A vivid image of women's health through the 19th and 20th centuries can be drawn from the hospital's two initial Midwifery Books (1856-1858), through Honorary Physician Case Books (1878-1910), to Labour Ward Case Books and Registers (1888-1982) and many others.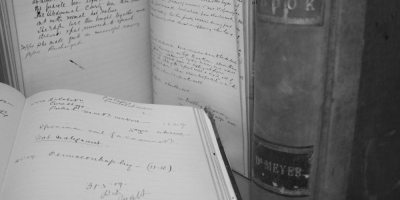 Most 19th and early 20th century patient records are not indexed and still exist only in their original bound volumes. It verges on the impossible to find a specific patient's record unless specific admission dates are known.
Birth records are comparatively easy to find, as birth dates are usually known, but the Infirmary Department records are a very different matter.