Thanks to your generosity, in the last financial year the Women's Foundation distributed a record $2.12 million to the Royal Women's Hospital, 77 per cent of which was used for research, 12 per cent for equipment and technology, 9 per cent for creating exceptional patient care and 2 per cent for investing in our staff.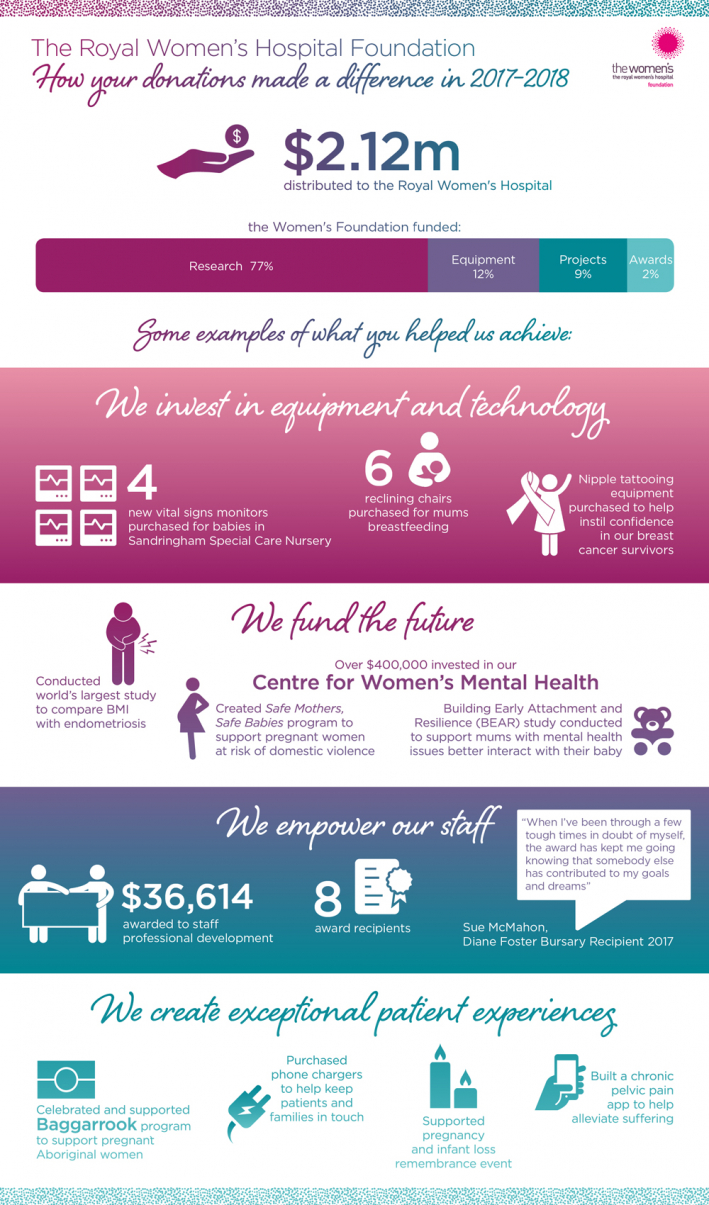 During the last financial year, your generous support enabled an investment in equipment and technology resulting in four new vital signs monitors purchased for babies in Sandringham's Special Care Nursery, six reclining chairs purchased for mums breastfeeding and nipple tattooing equipment purchased to help instil confidence in our breast cancer survivors.
The Foundation's focus on research has led to support for the world's largest study to compare BMI with endometriosis and over $400,000 invested in the Women's Centre for Women's Mental Health. This investment created the Safe Mothers, Safe Babies program to support pregnant women at risk of domestic violence along with conducting the Building Early Attachment and Resilience (BEAR) study to help mums with mental health issues interact better with their baby.
With $36,614 awarded to staff for professional development, we were able to recognize eight award recipients through donor funded scholarships and grants. As Sue McMahon, Diane Foster Bursary Recipient 2017, said, "When I've been through a few tough times in doubt of myself, the award has kept me going knowing that somebody else has contributed to my goals and dreams."
The Women's Foundation is proud to help the creation of exceptional patient experiences by celebrating and supporting the Baggarrook program which works with pregnant Aboriginal women, purchasing phone charging stations to help keep patients and families in touch, supporting a pregnancy and infant loss remembrance event and building a chronic pelvic pain app to help alleviate suffering.
All donations to the Women's Foundation are tax deductable.